Outsource complexities, accelerate digital transformation and maximize opportunities
Comprehensive
Managed Services from Sify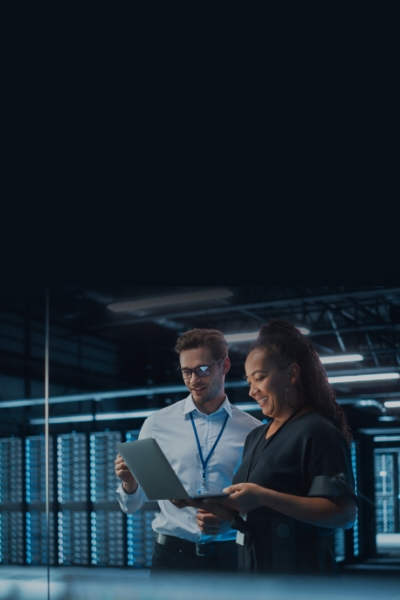 Unlock the power of innovation and efficiency for your business
Increasing reliance on new-age technologies, continuously evolving processes, frameworks and regulations, and the need for 24×7 availability and security are adding to business complexities every day. Enterprises find it challenging to manage and maintain their digital infrastructure while also focusing on their core business. This requires investment in people, tools and automation and continuous upgrades to keep pace with innovation.
Sify's end-to-end Managed Services complement hybrid IT deployments from edge to cloud. From assessing and benchmarking the current IT landscape to orchestration and optimization – we monitor and manage the complete digital infrastructure and applications lifecycle of an enterprise. Our unified digital experience platform ensures continuous compliance, enhanced security, and operational efficiency with proactive monitoring, real-time management, automation, and All Ops-as-a-service delivered through flexible commercial models.
A leading healthcare provider chose Sify's Cloud@CoreTM platform for the digital transformation of patient care services while saving 33% on cloud costs.

Sify helped a life insurance major transform digitally with AI/ML, cloud-native applications, and modern DevOps toolchains by unlocking the power of hybrid cloud on a hyperscaler.

Sify's integrated hybrid cloud solutions modernized 80% of the business applications of a retail giant with zero service disruption.

A major NBFC gained business resiliency, 35% TCO reduction and 3X performance by fast-tracking digital transformation with multi-cloud, through Sify.

The world's most widely distributed postal system trusts Sify's Managed Network Services to offer 24×7 country-wide postal, banking, logistics, and insurance services.

India's largest power utility company chose Sify's Cloud@CoreTM platform with a business-outcome-based model to scale their service to 25 million+ subscribers.

Sify's Managed Services on canonical model secured higher uptime, enhanced visibility, reduced cost of DC ops, and overall IT optimization for a billion-dollar chemical manufacturer.

Sify's modernized SOC enabled single-pane visibility for multi/hybrid cloud security monitoring and automated response for 50+ customers.

Sify helped a pharma major with AI/ML-based security analytics platform to auto-mitigate threats, reducing time to detect and respond.

Cloud Managed Services
Leverage our comprehensive suite that encompasses advisory, migration, deployment, orchestration, management, and optimization services to deliver seamless multi/hybrid cloud experiences.
Infrastructure Managed Services
Automation-led comprehensive Infrastructure Managed Services for businesses to reduce Capex, manage complexities and increase focus on core priorities.
Network Managed Services
Reimagine your complex network architecture, ensure uninterrupted connectivity, get better visibility and control with our global network services management platform and world-class NOCs.
Security Managed Services
Get access to proactive 24×7 Managed Security Services to ensure protection and compliance against increasing cyber-threats across your digital IT infrastructure.
Application Managed Services
Increase operational efficiency with integrated end-to-end management of all your applications, databases and middleware across SAP, Microsoft, and Oracle environments.
Service Desk
Omni-Channel, 24×7, Multilingual
Tools & Automation
Discovery, Automation, Orchestration, Correlation, Operation Insights, Dashboards, AIOps, DevOps
Processes
ITSM – ITIL, ITAM, ITOM, ISO 27001, ISO 2000
Dedicated Hybrid Model
People: Dedicated
Tools: Dedicated / shared
Process: Dedicated to customer
SLA: Customized
Shared Hybrid Model
People: Dedicated / Shared
Tools: Shared / Dedicated
Process: Shared
SLA: Customized
Fully Shared
People: Shared
Tools: Shared
Process: Shared
SLA: Sify SLA
Why customers choose
Sify
Single partner for Managed Services across IT and non-IT operations
Comprehensive Managed Services across DC, cloud, network, infrastructure, applications, NOC, SOC, end-user support, and non-IT operations and infrastructure.
Flexible & optimized hybrid delivery model
Get ahead in your digital transformation journey with the right-fit IT delivery models that ensure flexibility and optimization to meet unique business needs.
Trusted partner for all your future transformation initiatives
A comprehensive Managed Services provider that can help your organization successfully navigate and implement future transformation initiatives.
Productivity improvement
Improve productivity by assessing current operations, identifying improvement areas, and implementing solutions that streamline workflows, automate tasks, and improve efficiency.
Full suite of ITIL service elements and process compliance
This includes all of the elements defined by the Information Technology Infrastructure Library (ITIL) framework and is compliant with ITIL regulations.
Best-of-breed MSP tools and proactive monitoring
We use cutting-edge managed services provider (MSP) tools, combined with proactive monitoring and a unified interface for managing all IT operations.
Key partners
Our strategic partners help us deliver unmatched business value and unique experiences