Monitor, manage, secure and optimize network performance 24x7

Stay connected and secure with our Managed Network Services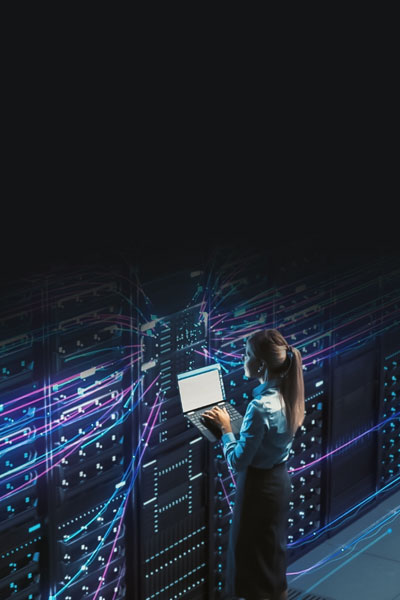 Redesign, rearchitect, and reduce complexities across networks
The rapid growth of digital business models and borderless enterprise mobility has sparked a paradigm shift in connectivity and network infrastructure. Modern businesses require seamless integration across on-premises, hosted private cloud, and public cloud environments, along with access to SaaS applications, in order to achieve the necessary flexibility and scalability for their operations. To meet these requirements, contemporary network solutions must undergo a holistic transformation to become agile, performance-driven, on-demand, and highly secure.
With over two decades of experience in managing business-critical networks, Sify understands the evolving needs of the digital landscape. We offer comprehensive Managed Network Services to suit your enterprise goals. We empower your organization with the agility to adapt, through a wide range of infrastructure, networking and automation skills, tools, and processes. We devise a robust network strategy to integrate your network with cloud, and consolidate, secure, and manage your network connectivity to free up your time and focus.
Managed Network
Stay connected and secure your business by simplifying network monitoring and management with Managed NOC Services. With Sify's integrated skillsets, processes, tools, and Network Security Services, enterprises can optimize Capex and Opex investments, focus on core business functions and strategies, and safeguard their data and assets, while ensuring high availability over the edge, internet, and the network.
Network Transformation
Deliver a seamless customer experience by leveraging Sify's extensive knowledge of network integration and transformation for hybrid and multi-cloud environments. Avail our cloud-ready and edge-ready network solutions, and harness our cloud, data centers, and network technologies at the core, edge, and management layer, to enhance business outcomes.
SD-WAN
Experience seamless connectivity with our Managed SD-WAN services. Overcome the complexities of the enterprise network by leveraging a robust managed SD-WAN platform that is built in partnership with leading OEMs. Unlock the network agility and security required by the modern-day enterprise.
Why customers choose
Sify
Pioneering network
India's first and largest MPLS network by connections – 3,700+ PoPs across 1,600 towns and strong partnership with all major OEMs. Benefit from a single window solution with clearly-defined SLAs.
Trusted partner
Sify is implementing and managing business-critical, complex networks of national importance for 700+ enterprises.
Low latency
Benefit from a low-latency cloud and DC-ready network to support your digital transformation pursuits.
Agile and secure
Gain agility through software-defined infrastructure, app acceleration, and network resiliency, along with superior threat intelligence and advanced analytics.
Managed Network Services
World-class service delivery platform, network-agnostic and automated, with proactive monitoring and management. Delivered from our global NOCs.
Continuous innovation
Deploy state-of-the-art technologies by virtue of SD-WAN and SASE to improve network efficiency and outcomes.