Optimize ROI, increase agility and navigate complex hybrid/multi cloud environments
Cloud Managed Services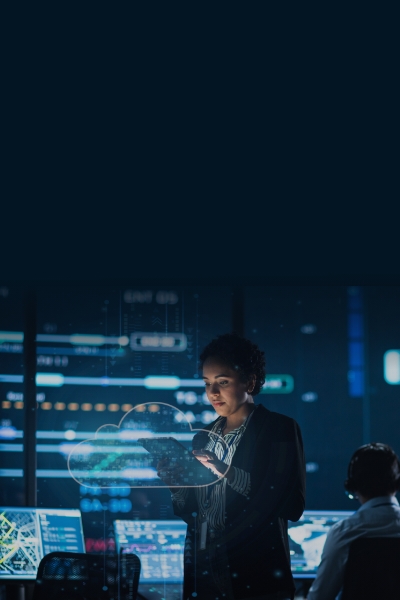 Orchestrate, manage, and optimize workloads
Managing the intricacies of multi-cloud environments, ensuring data security, optimizing operational costs, and meeting regulatory compliance poses a formidable challenge for businesses in the ever-evolving digital IT landscape.
Sify's Cloud Managed Services offers a comprehensive suite that encompasses advisory, migration, deployment, orchestration, management, and optimization of your cloud environment.
With over 500 certified cloud professionals, including 150+ dedicated highly skilled cloud engineering and security experts,​ we ensure our customers get the best of their cloud ecosystem while driving business value, delivering cost-control, scalability, and security. Partnering with Sify guarantees access to industry-leading cloud management practices, robust security protocols, and a proven track record of success.
Advisory and Migration
Our experts are here to provide assessment of the existing IT landscape to designing, implementing, and migrating workloads to the right cloud platform.
Hybrid/Multi-Cloud Management
We offer seamless migration & intelligent operations through a single portal, API-driven automation, cost-efficient resource visibility, unified security management, interconnect-ready cloud platform, and DevSecOps-oriented services.
Hyperscale Partner Cloud
Sify is best suited to help you adopt the right cloud platform with capabilities around major hyperscale cloud services, such as AWS, Google Cloud, Oracle Cloud, and Microsoft Azure.
Managed Cloud Security
Leverage the visibility we offer, along with augmented controls and proactive threat protection with accelerated detection, automated response, and remediation, to enhance your cloud security.
Why customers choose
Sify
Discovery and advisory
We co-create the best cloud strategies by assessing your business priorities and designing the desired target architecture while ensuring business as usual.
Migration at scale
With over 250 migrations across hyperscalers and private clouds, we ensure a risk-free, seamless transition in adopting the right cloud, multi-cloud or hybrid-cloud model and partner.
Enhanced operational efficiency
With automation-led productivity and scalable models, our multi cloud management platform helps you in supporting cloud bursting, with increased agility and cost optimization.
Relevance to customers
Over two decades of focus in intelligent operations, multi-cloud adoption, and customer experience help us to deliver robust technology, service, and business level outcomes.
Industry-specific governance and regulation
We help you ensure low latency while maintaining industry-specific governance and regulatory policies and compliance.
IT modernization
We deliver cloud-agnostic digital infrastructure and value stream management solutions around DevSecOps and CI/CD as a service, ensuring a compelling user experience and agile delivery.