Accelerate digital transformation, reduce complexities and streamline IT operations
Automation-led Infrastructure Managed Services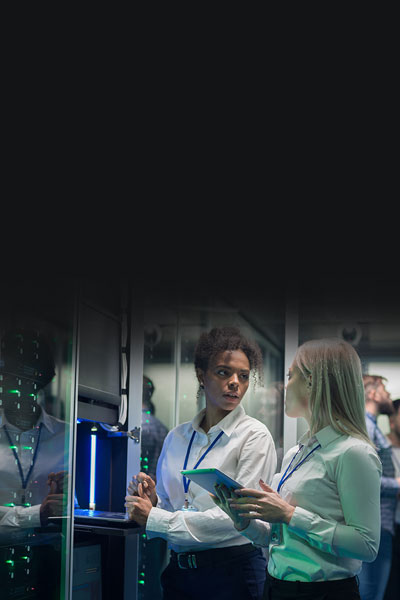 Empower your IT operations to meet changing business needs
Today's ever-evolving industry landscape demands secure and efficient IT operations, along with modern-day infrastructure. Enterprises try to achieve uninterrupted IT services and regulatory compliance with the limited resources, tools and expertise at their disposal – which can be a challenging task.
Sify's Infrastructure Managed Services offers a comprehensive suite of services, including network, security and data center management, as well as cloud services, specifically designed to help businesses streamline their digital IT operations. Businesses can work with us to unlock the benefits of hybrid IT, expert support, cutting-edge technology, and an outcome-driven approach.
Data Center Management
Monitoring, maintaining, and optimizing various data center components, as well as creating a robust strategy for responding to failures, security incidents, and other contingencies.
Security Management
Securing the IT infrastructure of businesses and protecting against threats using advanced threat hunting and remediation processes.
Cloud Management
Deploying, configuring, and monitoring cloud resources, such as virtual machines, storage, network components, and other critical assets.
Network Management
Managing network infrastructure, including routers, switches, and firewalls, to ensure reliable and secure communication between systems.
Monitoring and Maintenance
Continuously monitoring the performance of critical IT systems and performing regular maintenance tasks to prevent outages and resolve issues.
Capacity Management
Managing the growth and scalability of IT infrastructure to ensure that it can accommodate the growing digital needs of the enterprise.
Technical Support
Providing round-the-clock technical support across on-premise, DC and Edge to help resolve issues actively.
Why customers choose
Sify
One-stop destination
A single partner for Managed Services across data centers, cloud, NOC, SOC, EUS and non-IT.
Optimized hybrid delivery model
Flexible and scalable solutions to meet changing IT infrastructure needs, while also maximizing cost-effectiveness, security, and control.
Enhanced operational efficiency
Productivity improvement through automation and event correlation with faster RCA, automation and AIOps.
Trusted partner
Over 22 years of delivering future-ready transformation initiatives, including designing, building, owning and managing IT infrastructures.
Monitor, maintain and manage
Monitor service performance and proactively manage devices and networks in an agile and adaptable way.
Flexible commercial models
Flexible and scalable IT services that reduce costs, improve efficiency and ensure a high level of security and reliability for IT systems.