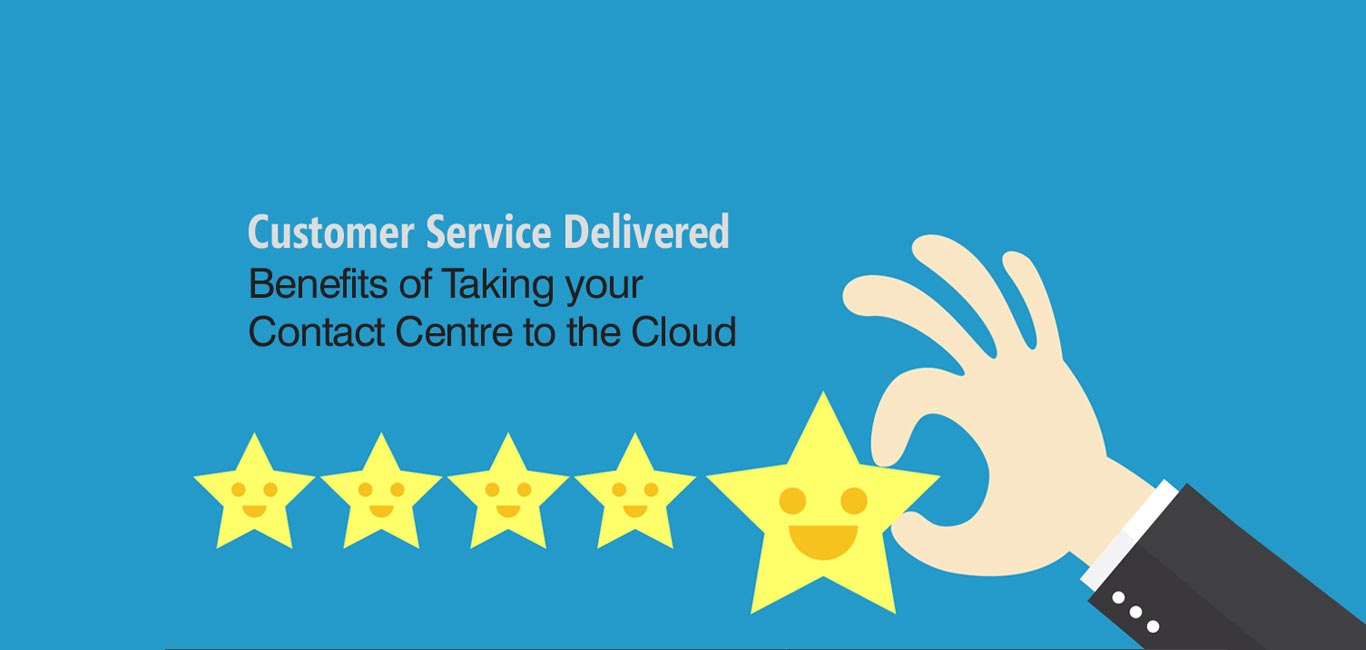 The key to thrive in a "Customer is the King" economy is being extremely responsive to their ever-evolving demands while serving as a pacesetter for the competition. Customers are demanding a wider choice of contact channels, stronger relationships, flexible customer service options and quick-to-respond customer service. All these factors have increased the pressure on Contact Centers; they must deliver the best possible customer experience – consistently!
Organizations are progressively moving towards 'as a service' technologies as they look for models that are flexible and enable better responsiveness and service quality in today's customer centric environment. Contact center service providers' cloud-based offerings focus on cloud as a deployment option as against the conventional on-premise alternative. By taking the contact center to the cloud, businesses get a robust, flexible, cost-effective and multi-channel solution with unified delivery and professional management.
3 main Benefits of Cloud-based Contact Centers
Flexibility and Scalability
A traditional contact center is based on the intended contact service agent capacity, the approximated volume of customer interactions and an estimate of the type of channel/feature access required. On the other hand, cloud solutions enable businesses to operate fluid contact center operations, where they could modify the scale of operations, swiftly add functionalities, switch the mix of communication channels, handle unanticipated spikes in the interaction volume or draw on enterprise resources. Flexibility and scalability afford unlimited possibilities almost instantly to the businesses without the prohibitive expense of additional infrastructure/related software and the associated time to implement and operate the revised operations.
Substantial Cost Savings
Cost arguments in favor of cloud solutions versus traditional Data Centers are apparent right from the start – the former helps transfer the financial load from CAPEX (Capital Expense) to OPEX (Operating Expense). Switching to an OPEX model brings with it more simplicity and predictability with a 'pay-as-you-go' model. It eliminates the challenge and risk of making large capital expenses towards infrastructure at one given point; making it easier to budget for growth. In comparison, non-cloud contact centers cannot achieve this desired flexibility without investing a sizeable amount in infrastructure and are unable to facilitate businesses to right-size their operations. Cloud solutions are cash flow friendly as recurring costs are coupled only with an associated growth spike, thus eliminating the risk of unutilised investment. It also allows better budgeting, planning and related staffing decisions resulting in increased efficiency and productivity
Streamlined IT
Software-as-a-Service (SaaS) has been an industry norm for core applications like email/ CRM and many other business applications and is increasingly becoming universal. Cloud solutions guarantee that bandwidth, network and other communication services are addressed in order to meet evolving business needs and adapt to rapid changes in the business. The cloud-based contact center solution is hosted in a secure and reliable environment, as a result saving time and allowing businesses to focus their energies on their operations. There is an additional benefit of 100% reliable backup and disaster recovery of data and applications, which is difficult and expensive to implement and execute at a smaller scale. Taking their contact center to the cloud provides the businesses with an assured level of business continuity and the option of long-term retention of the data in their contact center operations. Leaders are becoming progressively more interested in the cloud adoption in this model and the operational agility benefits that it provides.
One constant for the contact centers is their relentless pursuit of change for the better. They are continually looking for superior technology, more efficient processes, and better-trained resources in order to improve the quality of the customer experience. These are aimed at serving customers more effectively and at the same time more economically. As providing exceptional one-on-one service, regardless of the medium, becomes the norm for businesses; cloud solutions for the contact centers serve the need of the hour by making it affordable to provide customer experiences designed to make buyers loyal to the brand.
As India's leading fully converged ICT Company, Sify is using its decades of experience in network and Data Center services to present the most comprehensive Contact Center as a Service platform in India.
Our extensive expertise has allowed us to craft a service offering, which is highly flexible, scalable and future proof. Sify's CCaaS provides all Contact Center applications under one umbrella – from branch connectivity and video conferencing to 100 % reliable voice calls. Delivered via the cloud, Sify's CCaaS is a multi channel platform, which can easily meet the most exacting contact center requirements.