Do more with less and scale as your business grows
Accelerate your business
automation with SAP on Cloud
Sify's philosophy for a digital future
Sify has over a decade of experience in providing SAP Advisory and Consulting, Implementation, SAP Infrastructure, SAP Migration, SAP Management and Support services.
As a trusted partner, we provide SAP workloads on the cloud with a range of benefits including zero downtime, cost controls, elasticity, scalability, and complete managed services. Our offering includes both SAP basis and functional support, bringing the intelligence, security, and reliability of on-premise workloads to the cloud, all of which have been certified by SAP.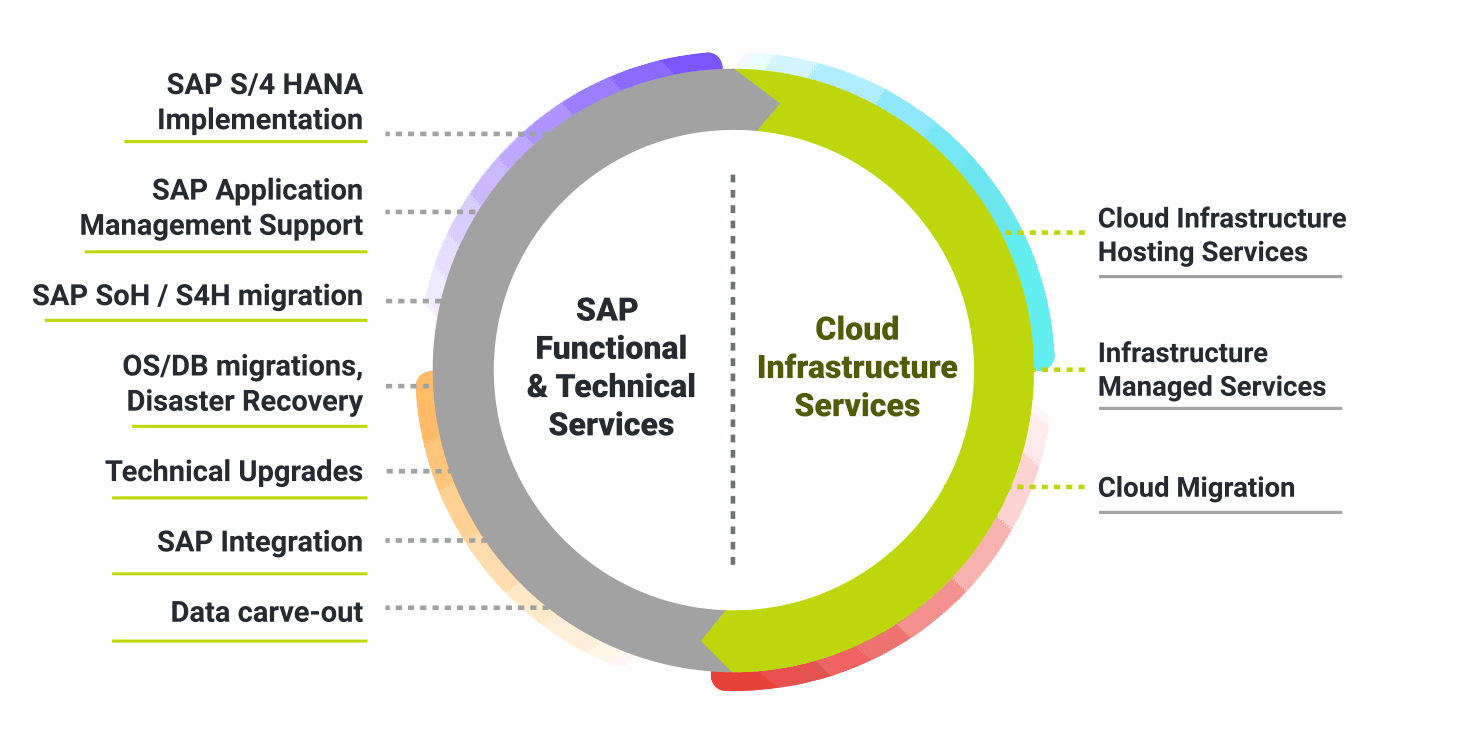 SAP Cloud Infrastructure Services
Enterprises that are looking for cloud adoption are often unsure about what they need to assess and how, when to start, and how to proceed and reap benefits. These need to be key considerations in their cloud strategy for hosting SAP workloads.
With its SAP on Cloud Advisory services, Sify helps organizations choose the cloud that best fits their SAP environment along with a wide range of SAP Cloud Hosting options, including Migration and Infrastructure Managed Services.
We help organizations accelerate their cloud adoption through our multi-cloud offerings andflexibility in deployments that include hosting on Sify's SAP-certified CloudInfinit grid, and SAP on AWS, Azure, and GCP.
Custom-sized, custom-built and bespoke hosted private cloud offering
Dedicated and managed servers, storage, network, and security to meet unique performance requirements and compliance requirements
Virtual private instances to run dev-test and production environment of SAP applications
Offers both virtual and physical HANA custom deployments
Wide range of HANA appliance sizes ranging from 64GB up to 6TB
VMware – HANA best practice, anti-affinity rule strictly followed for high availability
HANA KPIs maintained at all levels to adhere to SAP guidelines and certifications
HANA-certified all-flash storage SAN on 16G FC protocol for high throughput, IOPS, and low latency
State-of-the-art tools for optimizing automation
Unlock your organization's hidden business potential using our SAP Functional and Technical Services
With the pace of innovation in SAP solutions, increasing complexities of business processes and the persistent need to maximize ROI, businesses want to get the most out their SAP systems. They are looking for partners who can offer them the best of the functional and technical expertise in SAP.
With its rich pool of SAP experts, proven best practices, accelerators and tools, Sify provides a wide spectrum of SAP services covering Implementations, Rollouts, Support, Migration, Integration, Upgrades and Helpdesk Services.
Our SAP AMS Services, certified by SAP SE, deliver customer satisfaction using SLA-driven flexible support models, best practices and efficient project governance.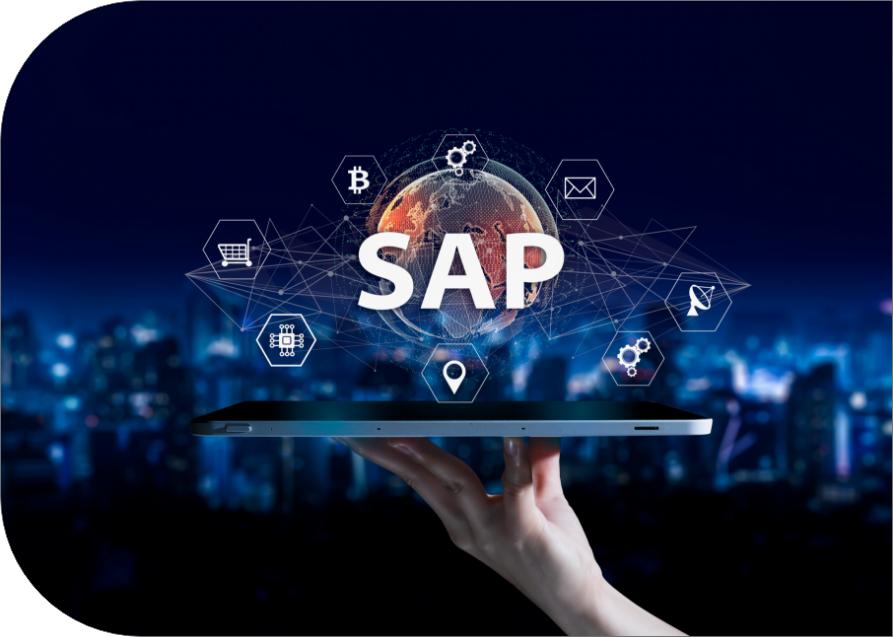 Support to SAP Business Suite and SAP S/4 HANA is certified by SAP SE
Engineers with rich blend of domain knowledge and SAP experience
Average SAP experience is 6.5 years
Flexible & scalable support models including 24×7 coverage
Full Landscape Visibility & Monitoring
Knowledge process framework to reduce person-dependency
Cost effective – benefits of tools and automation
Use of best practices and tools
The combination of SAP-certified Cloud grid & SAP Functional/Technical Services offers everything under one umbrella
SAP Service Offerings
Sify is one of the handful of SAP solution providers with a wide spectrum of competencies under one umbrella, right from sizing and provisioning the hardware and network for your mission-critical SAP system (on-premise or on-cloud) to migration, implementation, rollouts, upgrade, disaster recovery, and AMS or shared support for your SAP ERP suite, SAP S/4 HANA or any other New Dimension Products from SAP.
SAP Application Management Support (AMS) Services
Ensuring seamless operation of business processes mapped in SAP is critical for the smooth functioning of your organization. Our team of SAP consultants, boasting both core and niche skills, are dedicated to ensuring that these processes run without interruption, whether it be delivery truck logistics, finished goods inspection, or the generation of monthly pay-slips for employees. We offer a range of SAP Application Management Support options, including dedicated onsite support, remote shared services, and 24x7 and 16x8 support models. Our SAP Support for SAP Business Suite, including SAP ECC6.0 and SAP S/4 HANA, has been certified by SAP SE through rigorous bi-annual audits.
SAP Implementation Services
Growing businesses will have to invest in ERP systems sooner or later. SAP is found to be the best fit for most organizations. But implementing a new ERP solution is a complicated process that requires the expertise of an SAP consultant with deep domain experience. Sify's SAP Implementation Services utilize the best industry practices and methodologies to deliver a perfectly planned and executed implementation of SAP system.
SAP Migration Services
Sify CloudInfinit offers end-to-end managed services for your business-critical SAP application, ensuring a scalable, secure, and seamless migration to future-ready infrastructure. Our team of experts have successfully executed various SAP migrations, both homogenous and heterogeneous, with minimal downtime and zero business disruption. We have experience migrating to popular cloud platforms such as AWS and Azure, and have successfully executed Suite on Hana (SoH) and S4H migrations. Our experts work closely with our infrastructure team to ensure even the most complex SAP implementation can be migrated seamlessly and cost-effectively.
SAP BASIS Services
SAP Basis is the nerve center of your SAP landscape. For the smooth functioning of your mission- critical SAP application 24x7, it is important to monitor and manage it correctly. Our dedicated SAP Basis experts provide dedicated AMS or Shared Services, in addition to the ongoing Production Support, to help you upgrade your SAP system, migrate your SAP landscape to cloud, host greenfield implementations on cloud, configure SAP DR (disaster recovery) or benefit from single-point monitoring services from the Solutions Manager or the change request tool.
SAP Upgrade Services
Sify has extensive experience and expertise in executing various SAP upgrade projects, including non-Unicode to Unicode and version upgrades (e.g., from SAP 4.7 to SAP ERP 6.0) as well as version upgrades along with functional upgrades. We have successfully executed multiple upgrade projects for our clients, many of whom have chosen to combine their upgrades with migration to the cloud. Our clients trust us for these services because of our unique value proposition as a one-stop solution provider for all their needs related to the SAP system at every stage of its lifecycle.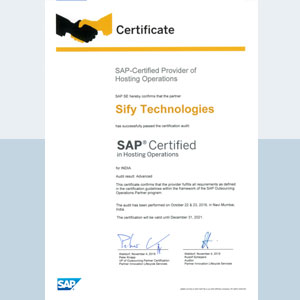 SAP Certified in
Hosting Ops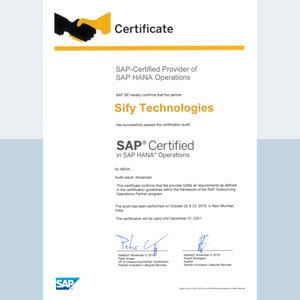 SAP Certified in
HANA Ops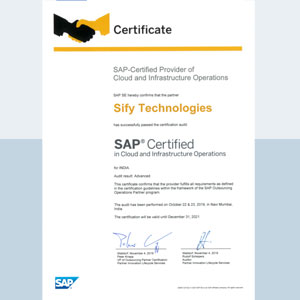 SAP Certified in
Cloud & Infra Ops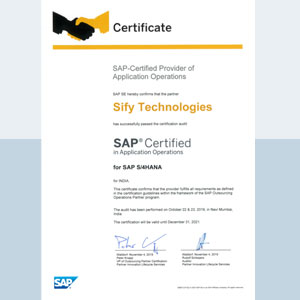 SAP Certified in Apps
Ops for S/4HANA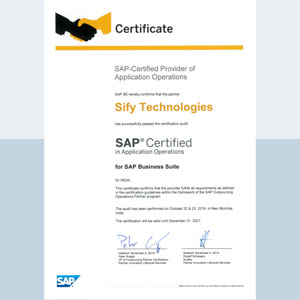 SAP Certified in Apps Ops for
Business Suite
Infinite possibilities with Sify CI+​
Cloud Leadership Across Industries
Decade-plus experience of managing and migrating 200+ cloud customers in India
Holistic multi cloud approach across public, private and hybrid
On-premise-like experience for your cloud workloads
Assured cost-effectiveness for predictable loads
Single point of ownership across all digital-led IT infrastructure
Outcome-based service models enable industries to relate with their business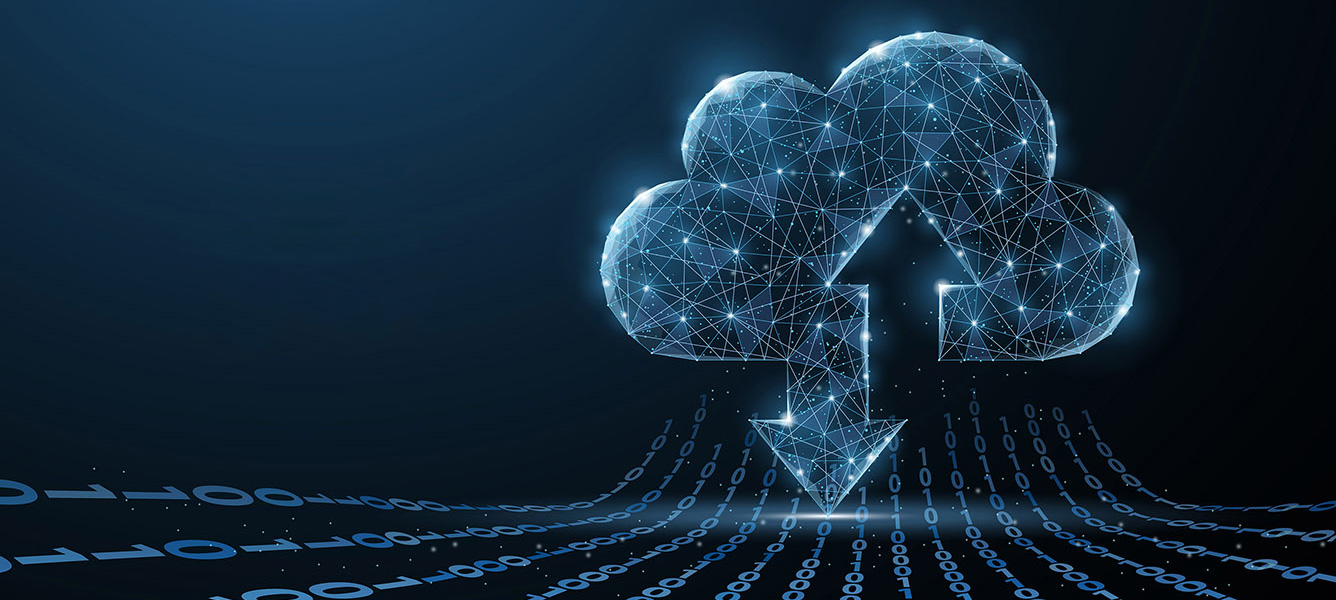 Cloud computing (which later became known as just Cloud), one of the technology trends since last few years, has become a game-changer. Cloud offered a platform for organizations not just to host thei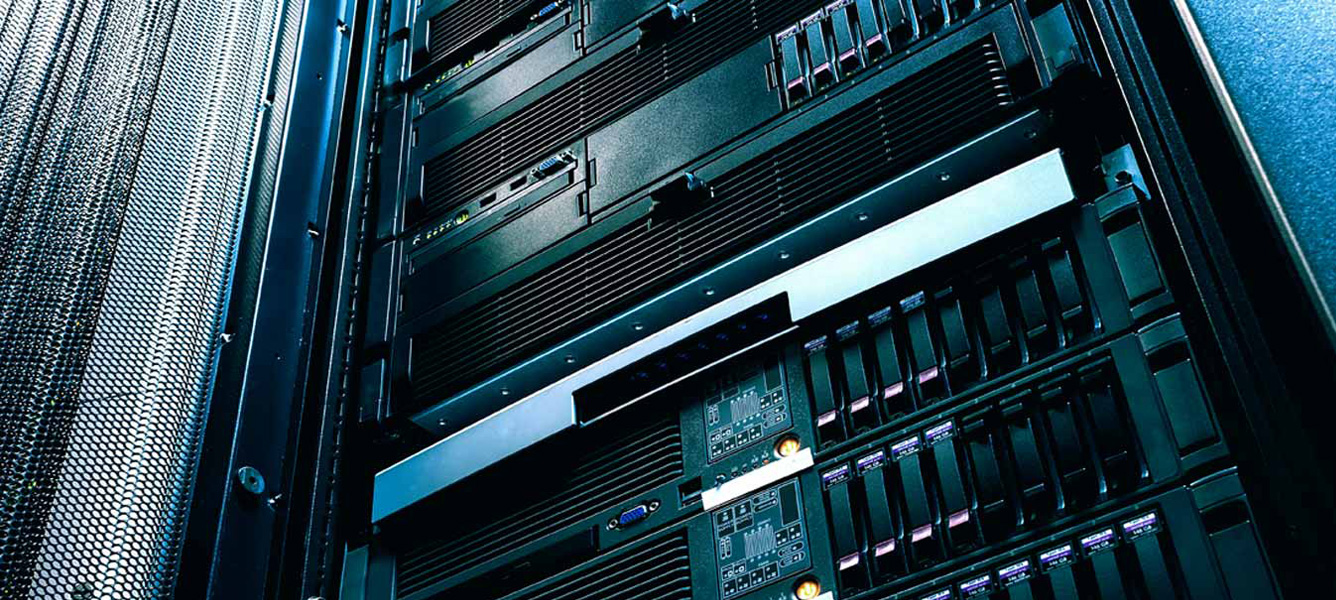 This blog exclusively covers the options available in AWS to recover SAP HANA Database with low cost and without using native HSR tool of SAP. With a focus on low costs, Sify recommends choosing a clo

With 90%+ of Fortune-500 organizations running SAP to manage their mission-critical business processes and considering the much-enhanced risk of cyber-security breach in today's volatile and tech-savv