In the digital age, migration to Cloud has become the top-most priority for businesses across realms. We are seeing major shift in the number of 'Cloud Hostile' customers turning into 'Cloud Friendly' & 'Cloud Ready' customers and pondering on the best plan to implement the migration successfully.
One of the major reasons behind this trend – besides performance, security, and cost – is agility & flexibility which help in faster business innovations. Organizations have started transforming themselves digitally to drive business value and grow business with enhanced end user experience.
Over the past few years, Microsoft has earned massive popularity among organizations worldwide for being a leading Cloud provider with – Azure, Microsoft 365 (M365) and Microsoft Dynamics 365.
Microsoft Azure is a highly productive, hybrid, and intelligent Cloud that allows you to leverage the power of cutting-edge digital technologies to build, deploy and manage critical applications as per your company's requirements. It also provides Cloud enhanced services like AI/ML, RPA, Analytics tools, and integrated Cloud resources to make your organization more agile and improve top-line performance.
Considering the above benefits, many forward-looking businesses are exploring Cloud-powered services to optimize internal processes and generate new business models. However, this digital aspiration is incomplete without transforming the technology landscape first. A strong technology foundation provided by Microsoft will help you connect your disparate data, processes, users, and applications to accomplish the end objective of organizational excellence.
Achieving all these is not as simple as it may seem initially! That's where, Sify's consultative approach can help you leverage the true value of Microsoft Services and align your organizational roadmap with the ever-evolving technology landscape.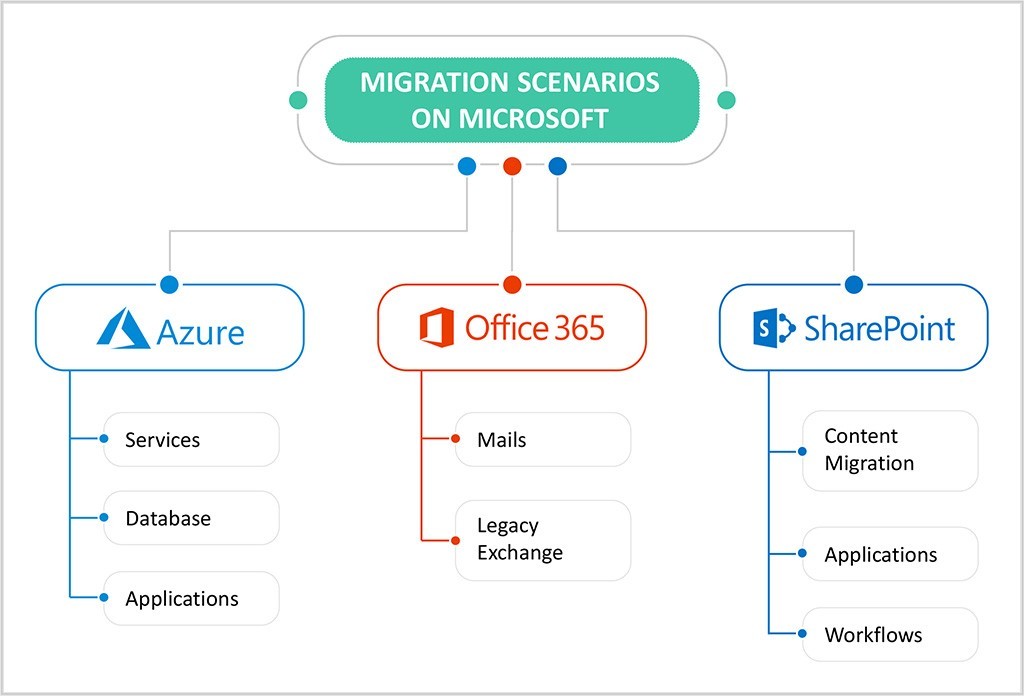 Azure Migration: The most successful path
Different organizations have distinct approach towards Cloud migration, and their decisions are governed by business specific priorities and constraints. You must know that Cloud migration involves significant organizational change management across people, process, and technology. It's very important to draft a holistic approach to migrate successfully and realize the benefits of efficiency, agility, and cost.
With Sify as your strategic partner, you are perfectly positioned to draft, implement, and monitor the overall migration plan in the most successful way. Our team of Cloud experts, Azure certified professionals, cutting-edge toolchains, and partner ecosystem can help you accomplish migration goals successfully. We can help you across all three phases of migration – assessment, migration, and optimization.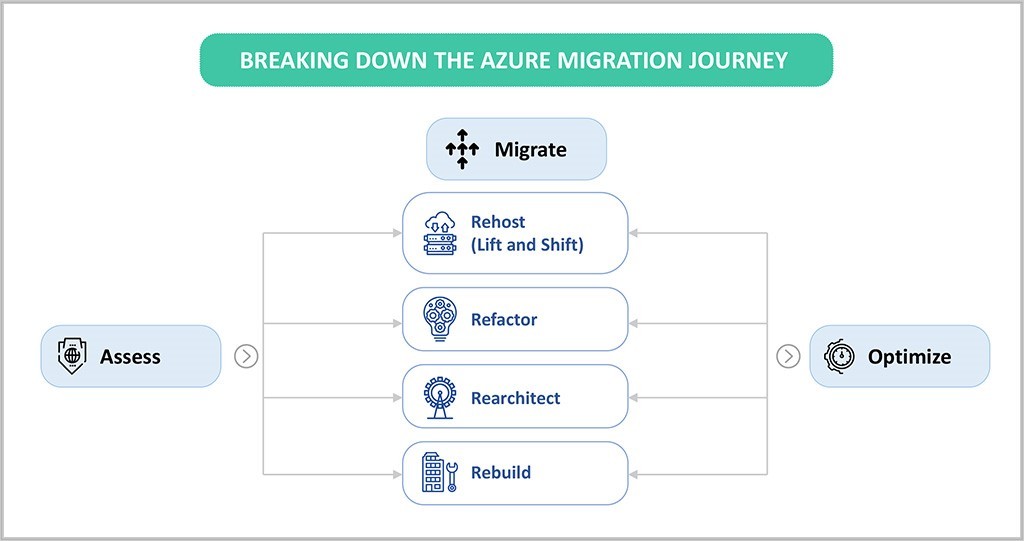 Assessment: This is the first phase of migration journey, which includes assessing and discovering your on-premises apps, data, and infrastructure. Our comprehensive range of assessment services can help you map dependencies across applications and decide their priority of Azure migration for a seamless journey.
Migration: The actual migration begins in this phase, where you start moving your apps, data and infrastructure – leveraging the best-suited migration strategies and tools. Our migration services will help you automate the entire migration journey (depending upon your IT specific needs) and minimize the downtime.
Optimization: Once you have moved to Cloud, it becomes important to monitor your Cloud resources continuously for better performance, enhanced security, and reduced cost. Our services will help you maximize your ROI and leverage unified visibility of Cloud resources for efficient resource utilization and optimization.
Sify + Azure Advantage
Single window solution provider (Network, Security, Azure IT and Management)
End-to-end Azure service coverage: Access – Architect – Migrate – Manage – Secure
Integrated Azure network and security proposition
Unified Dashboard across Azure IT
Simplified Execution and single point of ownership
Know more about transforming your IT Infrastructure with Sify's Azure capabilities.
Microsoft 365 – Mail migration
With Office 365 becoming the de-facto mode for conducting business, it is important to modernize the underlying infrastructure and platform. It is imperative for enterprises to move their legacy exchange and other mailboxes to Office 365 in order to reap full benefits of their workflow optimizations. Additionally, Office 365 offers the benefit of pay per use pricing for optimizing cost.
So in case, you are exploring the possibilities to conceptualize and implement your cloud migration in the most success-driven manner, Sify can help you embark on a successful Microsoft Cloud journey.
Our Accreditations
Microsoft Certified Partner for Cloud & Managed Services
Certified Deployment Partner for deployment of M365 & Azure services
Express Route Partnership for seamless connectivity with MS Cloud Azure & Microsoft 365
Certified team for Migration & Deployment of MS SQL workloads
Certified team for deployment of Hybrid Cloud Platform
Published on: 10 February 2021