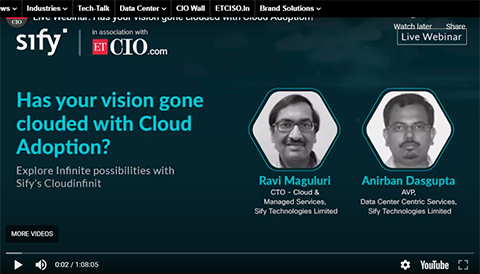 SPEAKERS:
Ravi Maguluri, CTO Cloud & Managed Services, Sify Technologies
Anirban Dasgupta, AVP, Data Center Centric Services, Sify Technologies
DATE:
October 29, 2020 | 6.00 PM
DESCRIPTION:
Enterprises are constantly grappling with the decisions surrounding cloud adoption strategy, how to manage the migration, which workloads to be moved, how to start application modernization, all while ensuring cost optimisation. Often our vision gets clouded with a relentless barrage of questions around cloud adoption.
Sify's Cloudinfinit cloud management platform provides comprehensive visibility, insights, and control over cloud resources from multiple clouds. This helps to make informed decisions to address various scenarios.
In this context, ETCIO.com in association with Sify is hosting a webinar titled "Has your vision gone clouded with Cloud Adoption? Explore Infinite possibilities with Sify's Cloudinfinit". Join us for this session to learn how to unclutter your thoughts around Cloud adoption.
Gain best practices from the industry experts on creating good visibility on various aspects of cloud management and insights that can be gleaned from such visibility.
Key Discussion Points
Analyse the Cloud adoption journey- strategy & roadmap
Enable operational excellence and cost optimization with cloud
Challenges and vulnerabilities associated with the cloud adoption