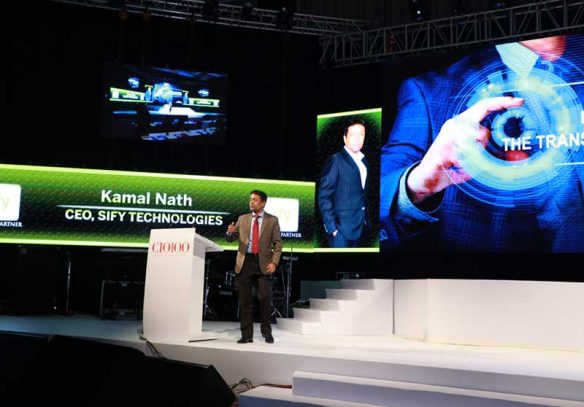 Honouring the 2017 CIO 100 winners
CIO100 is the acknowledged mark of excellence in enterprise IT and was ranked by CEOs among the top 10 most influential corporate scorecards globally. This proud tradition of recognizing CIOs began in the USA over 25 years ago and is now a celebrated annual event across continents. In India, the 1st Friday of September has become a red-letter date that unites the industry and showcases the best of Indian enterprise IT at the annual CIO10 Symposium & Awards ceremony. This ultimate recognition platform for winners only, ensures CIO100 remains exclusive to the crème de la crème of enterprise IT leaders and accounts for its reputation as the "Oscars of the IT industry".
This year, the CIO100 – Digital Innovator honored those CIOs who are using IT in smart and relevant ways to not only deliver business value but also reinvent what the IT department represents within an organization.
Being the keynote partner for a second year in a row at CIO100 Symposium, Sify Technologies gained high visibility among the crème de la crème IT leaders of the country. With ample and exciting fun activities like Digitally innovate your selfie, Mini Golf, Photo Mug and wackiest selfie contest – the Sify experience zone was designed to stimulate thought and facilitate networking.
The event spotlight was when Mr. Kamal Nath, CEO, Sify Technologies struck a synergy with the audience during his keynote session on "Digital Transformation & Innovation" and shed light on how CIOs can transform to become Chief Innovative Officers.
In the International Keynote, addressing CIO100 2017 on human technology, Danielle Di-Masi, "As leaders CIOs must reach out to team members constantly".
In the Focused Business Series, Bhavesh Mathur, VP and Head – Data Center Transformation conducted an enriching session on "Digital Master Class – Crash Course for Innovation & Transformation" for the 15 top CIOs who attended this session.
Venue
JW Marriott, Pune
Date
31st August 2017 – 1st September 2017
Organizers
International Data Group (IDG)