Our Work Rebooted Summit Top Tweets and Quotes – The Future of Work is Now
 How will our work change in the future? What will it mean for us and our workforce? How will we and our people develop and learn? – Indresh Chauhan
These are just some of the questions answered in the Work Rebooted Summit, held in San Francisco from 11th to 13th February 2018. It revolved around several very important topics ranging from the basic definition of the employer-employee relationship, the blended work and learning environments, entrepreneurialism, the nomadic workforce, the current free-agent economy, cognitive and robotic technologies, the proliferation of Artificial Intelligence as well as automation, to the changing expectations and demographics in the workforce.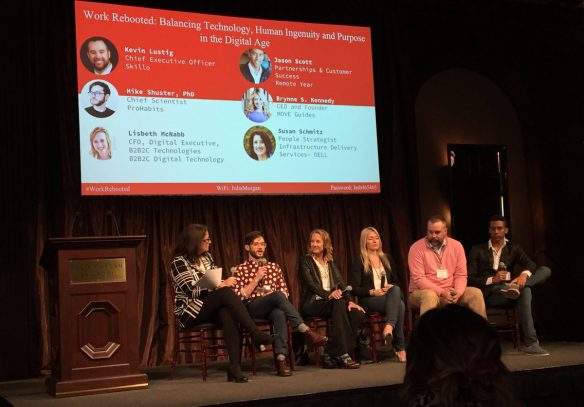 By 2020, a recent study estimates that the number of contingent workers will be up to 40% of any company's total workforce. What will that mean for corporate L&D? Julia Guestner & Zoe Harte facilitated the Total Workforce Management discussion – Indresh Chauhan

The ever-changing expectations in the workforce continue to present great opportunities as well as some pretty tough challenges. Technological advances, globalization and shifting demographics are all part of the dynamic workforce environments and require that we adapt to them quickly and efficiently in order to succeed. The Work Rebooted Summit (with participating companies such as  Upwork, Censia, and FlexJobs) helped dissect just this very concept providing useful insight into business success.
85% + of the world's workforce is disengaged. These are threats to health and happiness with real cost to orgs. For us in L&D, the ? is how to align learning with an org's higher purpose? Adam Fridman and Pamela Stroko take us through a purpose-driven journey at Work Rebooted– Indresh Chauhan

Work Rebooted presented us with the coaches and the mentors that we needed in order to feel inspired, motivated and make it out of the monotonous cycle into greatness and success.
 "Productive friction leads to accelerated learning" – John Hagel The thinker of thinkers – one of the world's leading authorities on the future of work & keynote speaker at Work Rebooted
The summit attempted at reconsidering how businesses succeed at organizing education and training as well as the hiring processes. It delved right into the root causes and challenges in recruitment being faced today and analyzed how organizations can manage resources, increase employee performance and morale and also best design and allot the jobs and the work spaces. Work Rebooted also dissected the concept of employment, how we tend to perceive the nature of work, as well as what it takes to build a workforce that thrives in today's market.
Jamai Blivin of Innovate+Educate is at the forefront of research into competency based HR processes. Hear her at the @workrebooted panel discussions about the "invisible workers" – workers left behind by unemployement, underemployement http://innovate-educate.org/our-framework/
A conference like Work Rebooted is essential today because the contemporary market is changing constantly and exponentially, as opposed to the older markets whereby change was pretty much linear and the learning was limited to what was already known.
During the summit, everything from policies, work spaces and places was examined and the integration of people management into overall business strategy were discussed.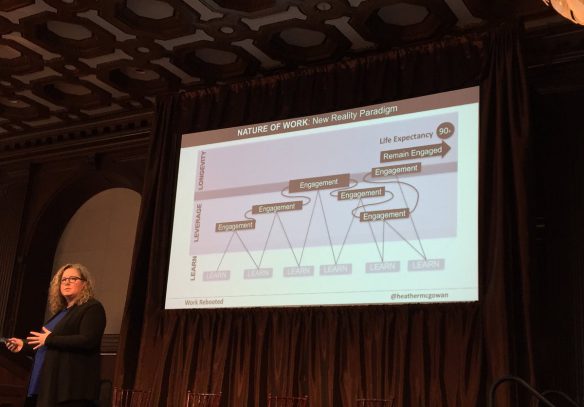 For those of us in L&D, perhaps the most important keynote address at #workrebooted conference will be Heather E. McGowan's titled: "The Future of Work is Learning Agility."
The leading organizations of the world are already making a change by adopting all the new technologies and approaches along with data driven solutions in order to facilitate highly effective teams that are responsive and diverse and can successfully meet the bottom line objectives. Add to this insight of your peers who can understand your immediate circumstances, and a conference like Work Reboot makes for an extremely impactful learning experience that offers transformational results. Work Reboot exposes you to new processes and practices that can be applied in any field and can lead to success and growth.
Heather E. McGowan and Chris Shipley have one clear thesis: "In the future, those who continuously learn will continue to lead….. we believe the Future of Work Is Learning."
Seasoned entrepreneurs, innovators and rule makers are the people we heard from at Work Rebooted. The Summit featured many successful and inspiring leaders who are accomplished in their fields and have made a mark and significant impact on their respective fields.
Here are some more tweets and quotes we love and want to share:
 Learning Agility is at the heart of our journey as humans – Heather E. McGowan


The Fourth Industrial Revolution will also be about learning revolution – @Work Rebooted

Organizations have to seriously think about learning for their gig workers and partners – @Work Rebooted

Employees want consumer experiences within their companies –  @Work Rebooted

Terri Griffith talks about the absolute need for more and more group work by a diverse workforce majority of who may not be permanent employees – Indresh Chauhan

---