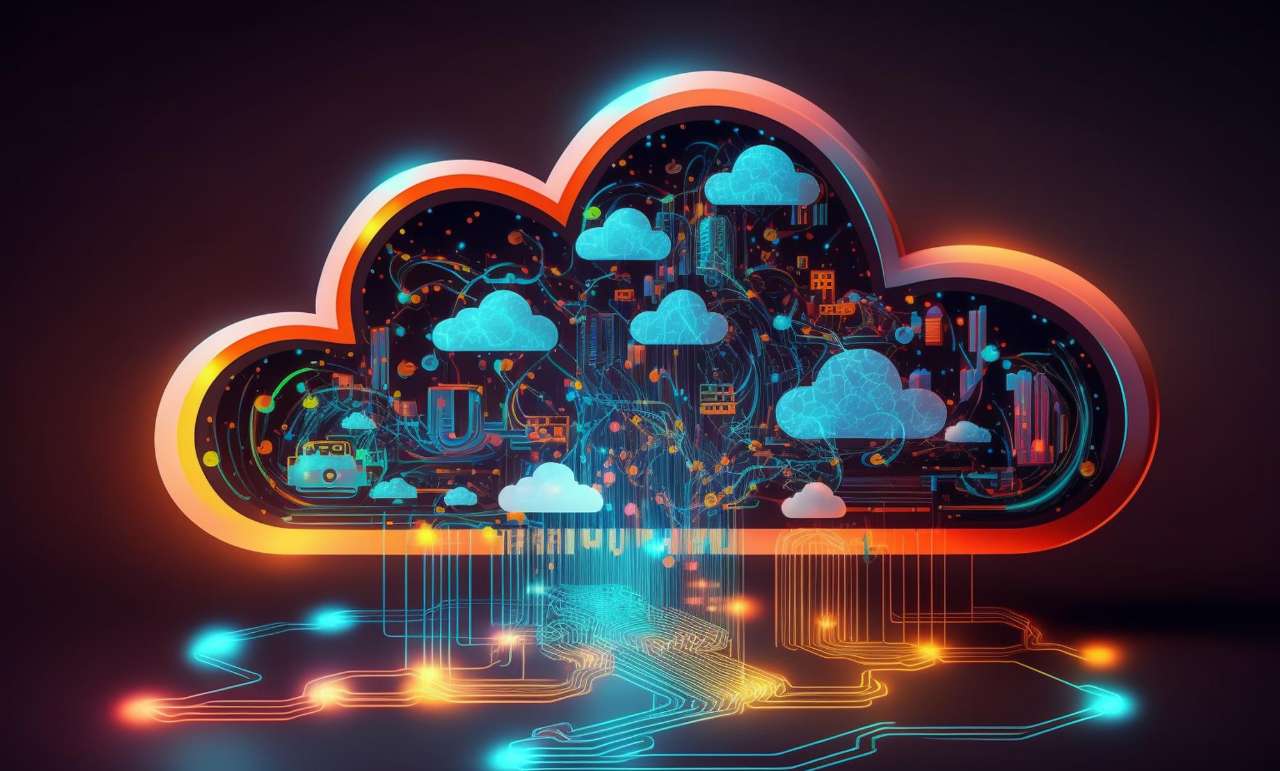 Managing a hybrid cloud environment demands a holistic approach. In the rapidly evolving landscape of modern computing, data centers are burdened with the challenge to meet the ever-growing demands of enterprises, while remaining agile, cost-effective, and secure. One solution that has helped data centers immensely is the adoption of a hybrid cloud model, which is a computing environment that combines both public cloud capabilities and a private cloud infrastructure. By combining the strengths of public and private cloud environments, a hybrid cloud architecture offers enterprises a transformative approach to data center management.
The foundation of a successful hybrid cloud implementation lies in establishing a robust infrastructure that seamlessly connects private and public cloud resources. Data centers need to manage data movement, synchronization, and replication between their on-premises infrastructure and public cloud providers. This requires robust data management and integration capabilities within the data center.
Enterprises must invest in modernizing their networking and storage infrastructure, employing software-defined networking (SDN) and software-defined storage (SDS) technologies to enable efficient data movement and workload mobility across environments.
Potential of a hybrid cloud for data centers
Hybrid cloud networking is crucial for establishing seamless connectivity between data centers and public cloud providers. Implementing high-speed, low-latency connections, such as virtual private networks (VPNs) or dedicated links, ensures reliable and secure data transfer. Data centers must focus on network optimization, traffic routing, and intelligent load balancing to maximize performance in hybrid environments.
Enterprises must implement a unified hybrid cloud management platform which is capable of providing visibility, control, and automation across diverse cloud resources. This central management framework streamlines operations, ensuring consistent policies, security controls, and compliance across both – private and public clouds.
Working with a hybrid cloud services provider
A hybrid cloud services provider acts as a strategic partner that empowers enterprises to seamlessly integrate public and private cloud resources. By partnering with a reliable provider, data centers gain access to a comprehensive suite of tools, technologies, and expertise required to architect and manage hybrid cloud environments effectively.
Enterprises benefit from cloud adjacency or the close proximity of their data centers to hybrid cloud service providers' points of presence or regional hubs. This arrangement offers several benefits, such as reduced latency, improved data transfer speeds, lower network costs, and better interconnectivity.
The provider of a hybrid cloud architecture offers unparalleled flexibility and scalability, allowing enterprises to optimize resource allocation, by leveraging private infrastructure for sensitive workloads, and tapping into the vast compute power of public clouds for bursting or scaling requirements. This dynamic approach enhances operational efficiency and cost-effectiveness, accommodating evolving business needs.
Adopting advanced technologies to automate and streamline multiple data center processes helps increase efficiency and reduce costs. Data center architects need to design data center infrastructures that can seamlessly integrate with public cloud providers, enabling the efficient movement of workloads between on-premise data centers and the public cloud. By adopting a hybrid cloud model, data centers can easily track and monitor their networks, applications, and user behaviour.
Benefits of adopting a hybrid cloud
The emergence of the hybrid cloud has significant implications for data centers. Here's an overview of what hybrid clouds have in store for data centers:
Flexibility and Scalability: A hybrid cloud enables enterprises to scale their computing resources up or down based on demand. It enables data centers to accommodate the dynamic nature of workloads that may span across both private and public cloud environments. During peak periods or when facing sudden spikes in workload, the public cloud can provide additional capacity, ensuring smooth operations without compromising performance.
Connectivity and Network Setup: Hybrid cloud deployments offer strong connectivity between a private data center and a public cloud provider. They ensure reliable and low-latency connectivity. Hybrid cloud connectivity extends beyond the boundaries of the data center, encompassing various cloud services and endpoints. To fully harness the benefits of hybrid cloud, data centers should prioritize interconnectivity between on-premises infrastructure, public clouds, and other external services.
Data Center Modernization: To support hybrid cloud environments, data centers may need to modernize their infrastructure, adopting technologies such as software-defined networking (SDN), virtualization, and automation through AI/ML. These upgrades allow for better integration and management of workloads across between colocation, private cloud, and public cloud environment. By harnessing real-time monitoring, data visualization, and predictive analytics, organizations can optimize data center performance, enhance reliability, and proactively address potential issues. The benefits of data center monitoring analytics extend to improved resource utilization, reduced downtime, enhanced security, and better decision-making.
Security and Compliance: Data centers play a critical role in ensuring the security and compliance of data and workloads in a hybrid cloud environment. A robust hybrid cloud management platform offers a unified view of resources, facilitates workload placement decisions, automates provisioning and scaling, enforces security policies, and enables seamless workload migration between clouds in a secure manner. Enterprises need to implement robust security measures, access controls, encryption, and monitoring systems to protect their data in the hybrid cloud. Here are some common security practices that data centers must embrace:

Limiting physical access to authorized personnel through key cards, biometric authorization or other access control mechanisms.
Implementing perimeter security such as fencing, gates, and security patrols.
Deploying firewalls to control and monitor incoming and outgoing network traffic.
Installing Intrusion Detection/Prevention Systems to detect and prevent suspicious activities and potential attacks.
Encrypting sensitive data both at rest and during transmission using strong encryption algorithms (e.g., AES, RSA) to protect against unauthorized access.
Implementing SSL/TLS protocols to secure data transmission over networks and web applications.
Conducting regular vulnerability assessments to identify potential weaknesses and vulnerabilities in the data center infrastructure and applications.
Establishing a well-defined incident response plan to handle security breaches and incidents effectively and minimize their impact.

Data Placement and Workload Optimization: Enterprises are able to make intelligent decisions about where to place their workloads and data based on factors like performance, cost, compliance requirements, and data sovereignty regulations. This involves optimizing workload distribution between the private and public components of the hybrid environment. Doing this prevents bottlenecks and minimizes downtime. By analyzing sensor data and historical trends, data center service providers can improve equipment uptime by up to 20% with advanced predictive analytics.
Data Backup for Disaster Recovery and Business Continuity: Implementing a robust data backup strategy helps ensure data integrity and availability in the event of data loss or corruption. Data centers must also develop comprehensive disaster recovery plans to recover critical systems and data in case of a disaster or major outage.
Multi-cloud Strategy: A multi-cloud strategy empowers data centers with greater flexibility, resilience, and cost optimization. By diversifying their cloud resources across multiple providers, data centers can take advantage of the strengths of different vendors, optimize performance, and maintain operational efficiency even in the face of disruptions or changes in the cloud landscape. Additionally, a multi-cloud approach enables data centers to adapt to evolving business needs while maintaining control over their infrastructure and data.
Unlock the benefits of the hybrid cloud for your enterprise with Sify
With the right hybrid cloud services provider, robust infrastructure, streamlined connectivity, and effective management platform, data centers can unlock the full potential of hybrid cloud and position themselves at the forefront of digital transformation. A hybrid cloud can not only future-proof data centers but also enable enterprises to thrive in an increasingly competitive and dynamic business landscape.
At Sify Technologies, we understand the importance of hybrid cloud for data centers and how it revolutionizes the way enterprises utilize and leverage cloud services. We empower data centers to optimize resource utilization, improve operational efficiency, and enhance overall productivity and profitability.
We also help data centers to adapt to evolving business needs, optimize resource utilization, and deliver exceptional performance. We have invested in more than 200 MW of green power because we are committed to reducing our global carbon footprint by promoting the usage of sustainable energy. Our green data centers are designed to help enterprises reduce energy costs by up to 40%.
A pioneer in the industry, Sify Technologies has been consistently helping enterprises with bespoke hybrid cloud management and data center services for several years. Our customers work with us because we:
Conceptualize, architect and implement the most efficient hybrid cloud
Provide a consistent user experience across clouds
Automate the discovery and tagging of critical resources across cloud environments
Offer AI-driven workload optimization for enhanced app performance
Ensure detailed tracking of billing data
Learn how your enterprise can benefit from the Sify Data Center experience.