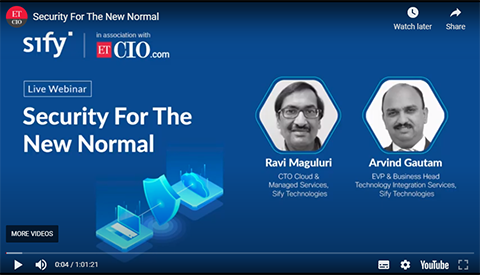 SPEAKERS:
Ravi Maguluri, CTO Cloud & Managed Services, Sify Technologies
Arvind Gautam, EVP & Business Head Technology Integration Services, Sify Technologies
DATE:
November 20, 2020 | 6.00 PM
DESCRIPTION:
Globally, the pandemic has created challenges for businesses and enterprises are struggling to efficiently operate in an altered world. As a result, there is a sudden increase in digital technology adoption, and enterprises are forced to shift their workloads to the cloud. Enterprises are apprehensive about the overall security associated with the cloud.
Understanding the gravity of a secure workplace to drive a secure future, ETCIO in association with Sify is hosting a webinar titled "Security For The New Normal". Gain the best practices from the industry experts on security and privacy challenges relevant to cloud computing.
Key Takeaways
Understanding the new threat landscape and designing a detailed strategic roadmap
Data-centric view of business while migrating to the cloud
Building a robust Cloud Security Posture for an effective security framework
Analyzing comprehensive and proven Cloud Access Security
Identifying security and risk management roles and responsibilities
Cloud Workload Protection: Better control over assets and build enhanced cloud security and resiliency
Published on: 09 September 2022