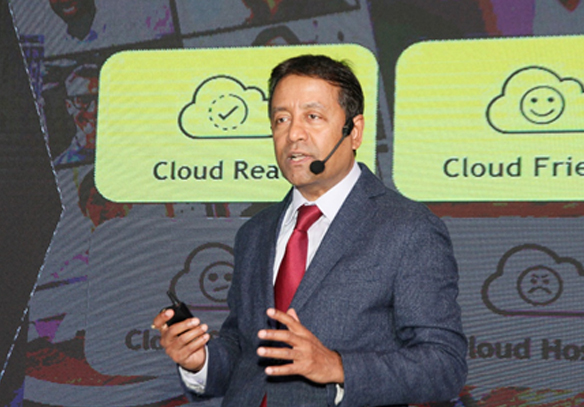 Interactive session with Data Center Expert – Mr. N. K. Singh
Mr. N. K. Singh discussed various aspects of Data Center essentials such as planning, due diligence, health checks, and outages. The session was followed by a small discussion around Sify's Data Center capabilities by Mr. Girish Dhavale, CTO, Data Center & Colocation Services.
Sify Kolkata DC Tour
The CIOs were given a guided tour of Sify's state-of-the-art Cloud Data Center in Kolkata. At the conclusion of the Data Center tour, the guests were shifted to the venue – Taal Kutir Convention Center at Taj Hotels.
Fireside Chat and Audience Q&A
At Taal Kutir Convention Center the guests witnessed a sharp and insightful talk by Mr. Kamal Nath, CEO, Sify Technologies on "CIO Agenda 2023: Re-balancing through re-calibration." Kamal also spoke about changes in the lives of CIOs and their priorities in the post-pandemic era. This session was followed by a Fireside Chat & Audience Q&A with Kamal Nath from Sify Technologies and Bhawna Agarwal from HPE- India.
Special Session with World-renowned Mentalist Mr. Roy Zaltsman
The event concluded with a special performance from world-renowned mentalist from Israel, Mr. Roy Zaltsman, who mesmerized the audiences with his quirky antics and mindboggling acts.
Venue
Kolkata DC Office + Taal Kutir Convention Center – Taj Hotels, New Town Kolkata
Date
13th Jan 2023
Time
3:00 pm – 8:30 pm
Organizer/partner
HPE, INFOCOM (ABP)