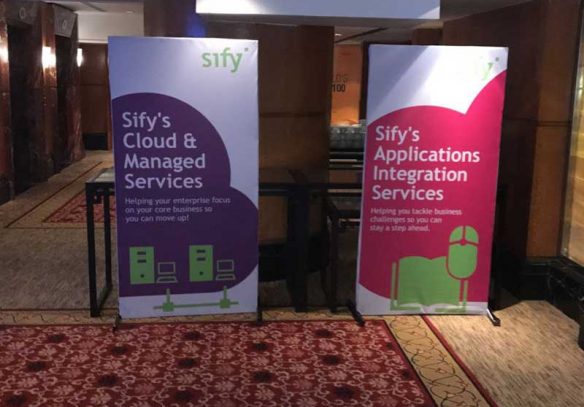 A forum that focused on 'Digital Transformation'
INFOCOM-CTO Forum SAARC Tech Summit 2017 was an elite and exclusive evening program that was hosted for the CIOs, CXO's of Dhaka, Bangladesh. The event was aimed to focus on the theme of "The Digital Transformation".
Sify got an opportunity to showcase its Digital Transformation proposition to 110 plus prospect customers in Enterprise, Healthcare as as well as Education, Banking Bangladesh.. Apart from the ICT story we were able to showcase Sify's in-house capabilities like Cloud, iTest, and OEM Applications capabilities like SAP, Oracle & Microsoft. Sify also got a networking opportunity with prospect customers as it was the first event where Sify's ICT capabilities were showcased in Bangladesh.
Opening Remarks was given by D D Purkayastha, Managing Director and CEO, ABP Pvt Ltd and Chairman, INFOCOM. Inaugural ceremony was performed by the CHIEF GUEST, Begum Tarana Halim, Minister of State, Posts, Telecom & IT, Government of the People's Republic of Bangladesh. Talking about the initiatives being taken by Bangladesh Govt. to ensure enterprises and ICT companies investment in expansion.
Sify got an opportunity to host exclusive evening session and present on "Sify's play as ICT Service Provider". On day 2 of panel discussion on 'Manage Risk – Build Trust – Embrace Change' Sify had the opportunity to talk about its Data Center and Cloud capabilities and how it is continuously innovating for customers like PayTM, Maxlife, Max Bupa, SBI and others. Sify even delivered a key note session on "Accelerating Digital Transformation with SAP HANA Enterprise Cloud"
Venue
The Westin, Dhaka, Bangladesh
Date
11th August 2017 – 12th August 2017
Organizers
INFOCOM – ABP Pvt Ltd