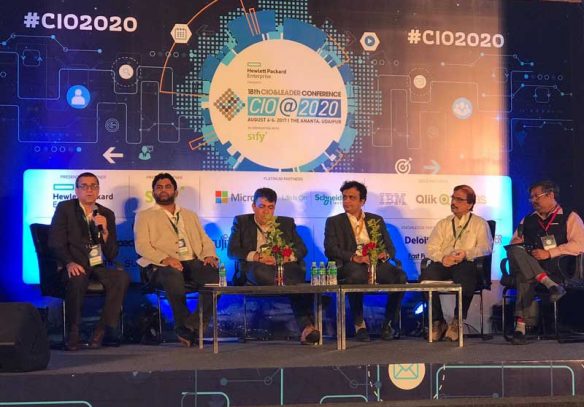 A forum to deliberate on future roadmap of the IT landscape
Sify was the Premier Partner at the Mega Leadership forum CIO@ 2020 conceptualized by 9.9 Media where 100 plus CIOs came together to discuss and deliberate on future roadmap of the IT landscape. Sify leveraged multiple engagement opportunities at the forum to showcase itself as an end-to-end ICT solutions provider and its expertise across industries.
The forum included the following sessions…
Transformation 2020- An ICT Perspective
Sify shared valuable insights on the CIOs role for agenda 2020 and key drivers for technology adoption. Sify's Industry focused expertise, leveraging digital technologies and alliances strategies on an outcome base business model will be essential.
CIO Cocktail 2020- Fusion for Transformation
The panel comprised of esteemed CIOs who discussed upon key technology ingredients required for enterprises to be future ready.
Digitization of Industries
The Ideas Cafe deliberation revolved around pain points and challenges of CIOs with respect to their industry and how Sify can be a relevant ICT solutions provider in this journey.
Digital Workplace
The workshop delved into 'Transforming the enterprise into a digital workplace: challenges, benefits and impact.' Leveraging enterprise collaboration solutions across devices, technologies, channels and locations leading to true unified communications.
Manufacturing 4.0
Discussion revolved around what are the strategic, business and economic imperatives for Industry 4.0, the key enablers and best practices for digital transformation in Manufacturing.
Tech Stack Agenda 2020
Agenda 2020 Tech Stack, enabled a set of actionable priorities for Indian CIOs, keeping in mind multiple vectors that could influence the strategic priorities before Indian businesses – technology trends, business environment, macro-economic changes in India and around the world.
Venue
The Ananta, Udaipur
Date
4th August 2017 – 6th August 2017
Organizers
9dot9 media