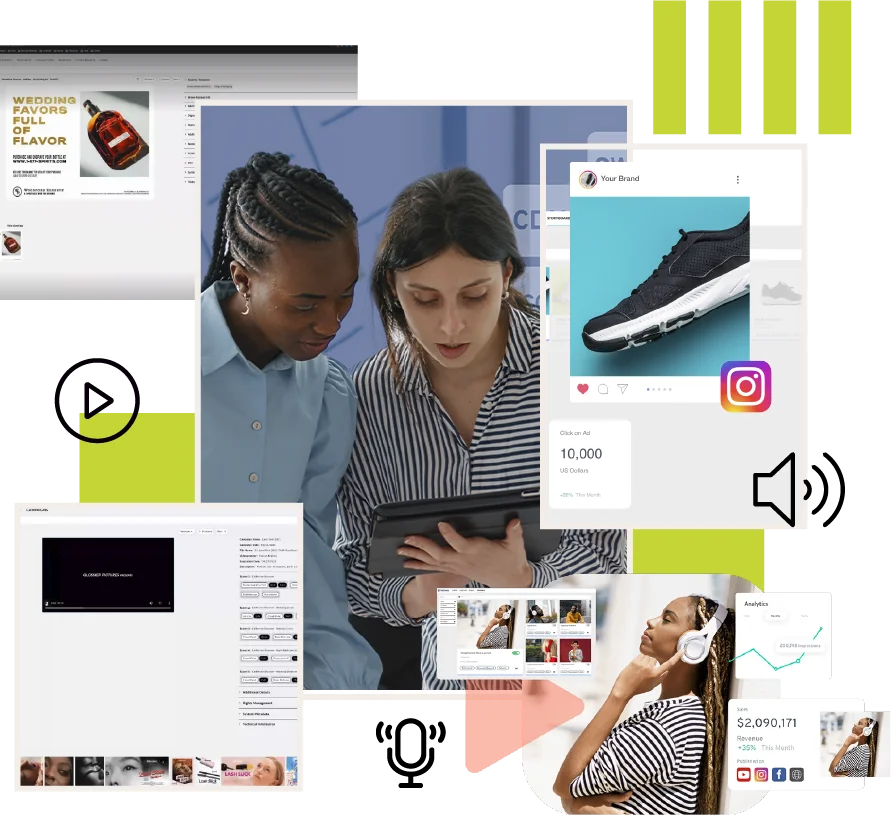 Credits: Published by our strategic partner Tenovos.
If you're launching a digital asset management system (DAM), you know that technology isn't your only challenge—sometimes people are. You can have the best DAM in the industry and processes to match, but if your users don't adhere to naming conventions or don't categorize assets correctly, the project can devolve into a DAM quagmire. So, how do you get all the users of your DAM—from designers and partners to agencies and entire teams—to come along on your DAM adventure from the start? Your journey will involve mapping out your terrain, building your guild of allies, consulting your DAM wizards, and choosing the path to your DAM legacy.
This article will be your definitive guide to DAM adoption from the beginning. We'll explain the process of getting users involved in selecting and rolling out your DAM, as well as the strategies you can use to ensure widespread adoption and ongoing equilibrium.
If you already have a DAM, the steps below are perfect for rethinking your adoption strategy. It's easy for users to fall off the adoption wagon, so your strategies should be evolving to keep up. You'll determine where to improve your engagement with your users, strengthen your desired norms, and encourage better user behaviors. From mapping out your DAM journey to setting yourself up for a legacy of success—let's talk about how to achieve optimal DAM adoption.
1. Map out the terrain—user influence and resistance
The (not so secret) secret to DAM adoption is identifying and engaging your stakeholders early in the process. For those without a DAM (or replacing your existing DAM), it means prioritizing the needs of those who will use the DAM inside and outside your organization.
Start with a stakeholder mapping exercise—sit down and brainstorm everyone who will be using your DAM or involved in the success of implementing it. Write each name on a sticky note—from the illustrators uploading new assets, to the IT manager who will deal with support tickets. Then sort those stakeholders into quadrants:
This exercise will help you determine which stakeholders should focus your energy and support on throughout the DAM adoption process.
It's also important to conduct resistance planning. To manage resistance, you should brainstorm all the potential reasons your stakeholders might resist your new DAM—make a thoughtful, comprehensive list. Executives may lack awareness of why a change is needed. Creative teams may fear the unknown that comes along with this change. IT may resist because they anticipate a lack of support once the DAM is implemented. In this stage, you should consider your users' concerns carefully, making note of potential blockages will help you gather their feedback and develop a communications plan that effectively addresses their concerns.
For organizations that have already implemented their DAM, it's never too late to map your stakeholders and consider their needs. Resistance can happen at any point in the journey. Investigate how your DAM is performing with a survey, DAM usage data, or user interviews at regular intervals. You may not be able to implement a new system, but it's never too late to revisit your users' needs and consider why they may be resisting your processes.
2. Build your guild—recruit your DAMbassadors
After you've determined which users have the most influence and interest in your DAM, you should identify who among them could be your allies. Who is likely to adopt new norms quickly? Who can assist you and offer insight into team morale? Who is most invested in the DAM planning process and its success?
Determine who among your internal (and even external partners) would be willing to offer ongoing feedback and engage with the DAM process. These are your DAMbassadors and they will help you disseminate information, encourage excitement in your engagement campaigns, and uphold the norms and processes you'll put in place.
Recruiting them could be as easy as taking the 'high interest/high influence' users from your stakeholder mapping and asking if they'd be interested in taking on an advisory role. It could be for a limited time as the DAM is selected and implemented, or if your DAM is already in place, you could ask them to give feedback on an ad hoc basis. Consider incentivizing this role—people are more likely to feel appreciated if they gain something from their insights. Bonus points if some of your champions are executive-level leaders—their buy-in will be important to secure budget and support across the organization.
Learn pro-tips on Maximizing your Content Value
3. Consult your wizards—plan your processes and collect feedback
It's never too early to start thinking about governance, or how your DAM will be managed. As a part of governance, you must define processes related to users, assets, metadata, and uploads.
You will need to answer questions like:
Will assets be uploaded manually through the DAM, via an integration, or both?
Are you managing web assets? Video assets? Something else? How does that change your DAM needs?
What are your file naming conventions? And where are these documented, and how are they communicated and enforced?
Which users/groups will be permitted to edit metadata?
Who will be responsible for archiving and expiring files?
Who will provide DAM access to external users? Who will be responsible for training them?
What are the different levels of access/permissions for different users and groups? How will access change if the users are external agencies, vendors, or retail partners?
Building and documenting these norms early on allows you to run them by your DAMbassadors and important stakeholders to ensure you're considering complex user or asset challenges that may come up when choosing, implementing, or managing your DAM.
And remember that feedback shouldn't stop at the planning stage or after you've implemented your DAM—continue seeking ongoing feedback from your internal stakeholders and external DAM users. Nothing halts adoption more than users feeling like their feedback and suggestions don't matter. Consider how you can collect feedback throughout the DAM process and follow up if user feedback influenced a decision—this builds their trust.
4. Pick your path—select the best DAM for your needs
Once you've determined your DAMbassadors, your unique governance idiosyncrasies, and sought the feedback of your internal and external users, you'll be ready to select your DAM.
Picking the right DAM can often feel endlessly complicated—the time spent gathering requirements, researching applications, and reaching out to platforms can leave you feeling exhausted by the options. Narrow your focus on the top features that your organization cannot function without—based on your stakeholder feedback, of course. If you've done Steps 1-3 thoroughly, your organization's ideal DAM should check off all your most important boxes.
If you've made your case to your executive-level leadership, done your research, and considered user feedback, your choice of DAM should set you up for the ideal user adoption scenario.
5. The rallying cry—develop and execute a communications plan
Communication plans can make or break DAM implementation. A clear comms plan will ensure everyone knows how the DAM will help them achieve their goals (i.e. what they can expect from the DAM) and how they're involved in the implementation and management of the DAM (i.e. what's expected of users). Use face-to-face meetings, town halls, forums, and Q&A sessions to communicate with stakeholders.
The key message is simple: If the DAM works as intended and users adopt it as directed, everyone's lives become easier. This plan defines the philosophy of the DAM, how it will be used, and how success will be measured for all users. It should include a timeline for implementation and onboarding and where users can go for ongoing DAM best practices, support, and training. You may choose to include how your organization plans to work with the DAM vendor and how the transition from the current asset system to the DAM will take place. The more clear and thoughtful your comms plan is, the more likely you'll be to reduce friction post-launch and improve adoption.
6. Create a legacy—make onboarding and ongoing training impossible to ignore
Your DAM adventure has begun. It's filled to the brim with users accessing your DAM for many reasons—approval workflows, sharing assets, archiving past campaigns. How do you manage to keep all those users following your carefully curated governance rules and norms? You create onboarding and training tools that are tailored-made to teach. Here are 3 DAM onboarding and training ideas to keep your journey of asset management smooth:
Launch a frequently asked questions (FAQ) video series in your DAM
Take a page out of Webflow University's book and make a library of quick videos to onboard users, answer common questions, and reiterate helpful governance norms. Host your FAQ library in your DAM and link its location to the dashboard of every user. Each video can be casual and even funny—the point is to make learning and relearning DAM conventions accessible and impossible to ignore.
Create a DAM help desk
Sometimes users don't know where to get their questions answered. Creating a DAM help desk, either in person or virtually, gives them a predetermined window to come to you with questions and feedback on the DAM. Have your DAM managers, IT staff, or DAMbassadors cycle through 'office hours'—they can be on standby until a user reaches out with a question. This also works great asynchronously as a Slack or Teams channel.
Build a governance document
Remember the governance planning you did in Step 3? Consider creating a governance resource that users can refer back to. Create an artfully designed landing page—an internal search engine that points people to common solutions to their problems. Give clear guidance on how to use common metadata terms, manage metadata, and upload assets. Include anything else that users may forget or make mistakes from time to time.
You may notice that this resource and your video FAQ library will have some overlap—it's important to have resources available in multiple formats and places. The more accessible, interesting, and valuable this information is, the more likely your users are to adopt it.
Your DAM adoption journey begins with a single step
User adoption is the single defining characteristic of a successful DAM implementation. Are your users accessing the DAM as intended? Is it working for them as intended? In your DAM adventure, user adoption is an ongoing process—a never-ending story. But, if you can map out your desired digital asset system, bring along the right users to see it through, plan and communicate your processes, and keep people engaged—widespread adoption is possible.
For organizations with entrenched DAMs (and tired DAM managers), it's never too late to address user adoption. There's always the opportunity to seek feedback on how to improve your DAM processes, make training easier to access, or develop a comms plan that revitalizes users' desire to make the DAM better.
After all, a journey of a thousand miles begins with a single step. Your adventure awaits.
Want to know what types of data your DAM should be providing? Reach us at marketing@sifycorp.com
Written by Michael Waldron, CMO, Tenovos
Published on: 19 October 2023