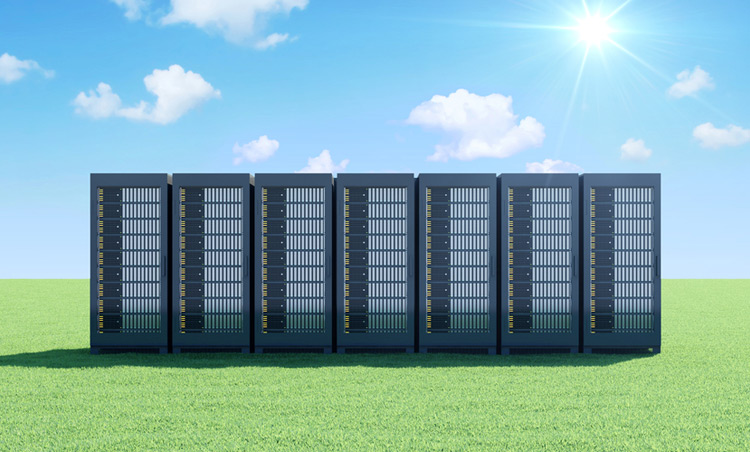 The rapid growth of enterprise data centers in India has led to an increasing focus on the concept of green data centers. Many businesses are now opting for alternative energy solutions for their data centers, as they offer numerous benefits. One key advantage is energy savings, which leads to cost reductions for businesses. Green data centers also contribute to environmental sustainability by reducing carbon emissions and optimizing the use of natural resources.
Comparing India's data statistics to global figures as of 2021, India represents 18% of the global population but has lower Internet penetration, e-commerce shopping, social media users, and mobile subscribers, all at 14%. However, India's total mobile data traffic is significant at 113 EB, and total media traffic is 588 EB. Currently, there are 138 operational data centers in India, utilizing 737 MW power. Over the next 3-4 years, an additional 50 data centers are expected to be established, resulting in a power demand of 1050 MW. In the next 7 years, the data center consumption is projected to exceed 3000 MW of IT load demand.
This level of enormous upcoming "data center capacity" has resulted in a significant increase in the volume of energy consumption by data centers, which can have a lasting impact on the environment, and finally result in climate change.
To solve this issue, the concept of sustainable data centers has come out to reduce the environmental impact of data centers while still meeting the growing demand for digital services. As per the Green Data Center Global Market Report 2023, the global green data center market is expected to grow to $139.93 billion in 2027 at a CAGR of 19.6% for the forecasted period 2023-2027.
With this, let's deep dive into understanding sustainable data centers, advantages of green data centers, and how to build sustainable data centers.
What Are Sustainable Data Centers?
Simply put, a sustainable data center or a green energy data center is designed and operated with a focus on environmental and social sustainability.
Sustainability in data centers involves the implementation of a variety of practices, such as the use of renewable sources of energy like solar or wind power.
Green data centers also help optimize energy use through efficient cooling and lighting systems, reducing water usage, and utilizing eco-friendly building materials and technologies. Green data centers also help in promoting responsible waste management practices.
Sustainable data centers strive to balance their operational needs with environmental responsibility, making significant efforts to reduce energy consumption, greenhouse gas emissions, and water usage while promoting the adoption of renewable energy sources.
Advantages of Green Data Centers
Eco-friendly data centers are crucial for reducing the environmental impact of the IT industry in India. Building sustainable data centers demonstrates a company's commitment to sustainability and corporate social responsibility. Here are a few benefits of Green Data Centers:
Energy Efficiency: Green data centers employ various technologies and practices to optimize energy usage. They use energy-efficient servers, cooling systems, and power distribution mechanisms, reducing overall electricity consumption and carbon emissions.
Reduced Carbon Footprint: Green data centers emit fewer greenhouse gases compared to traditional data centers. By adopting sustainable practices, they help combat climate change and contribute to global efforts to reduce carbon emissions.
Renewable Energy Integration: Many green data centers rely on renewable energy sources such as solar, wind, hydroelectric, or geothermal power. By harnessing clean energy, these centers decrease their reliance on fossil fuels and contribute to a lower carbon footprint.
Compliance With Environmental Regulations: Green data center solutions help companies comply with stringent government regulations aimed at reducing carbon emissions and promoting sustainability.
Cost Savings: Green energy data centers offer economic advantages by reducing energy costs and improving overall efficiency. Through energy efficiency and the use of renewable energy sources, green data centers can significantly lower operational costs. Over time, these savings can be substantial and may offset the initial investment in green technologies.
Enhanced Corporate Social Responsibility (CSR): Companies that invest in green data centers demonstrate their commitment to sustainability and environmental responsibility. This can boost their reputation and appeal to environmentally conscious customers and partners.
Longer Equipment Lifespan: Green data centers often prioritize the use of high-quality, energy-efficient hardware. This can lead to longer lifespans for servers and other equipment, reducing electronic waste and the need for frequent replacements.
Resilience and Disaster Recovery: Most green data centers are built with redundancy and resilience in mind, reducing the risk of data loss during power outages or other emergencies. This ensures critical data remains accessible and secure.
Leadership and Competitive Advantage: By adopting green practices, companies can position themselves as industry leaders in sustainability. This can lead to a competitive advantage as customers and investors increasingly prioritize environmentally responsible organizations.
How to Build Sustainable Data Centers?
To build sustainable data centers, companies must adopt a range of proven strategies and technologies that minimize their IT infrastructure's environmental impact, maximize energy efficiency, and reduce carbon emissions.
Upgrade to New Equipment: While regular maintenance and repairs can improve equipment functionality, over time, equipment becomes less reliable and more expensive to maintain. Hence, data center companies must invest in good-quality, cost-friendly data center equipment, procured from a reputed vendor. It is more advantageous in the long run to avoid the costly risk of data center downtime caused by aging and faulty equipment.
Optimize Energy Efficiency: The first step in optimizing energy efficiency is to choose energy-efficient hardware. Proper hardware and software configuration, such as implementing power management features, is also essential for optimizing energy efficiency. Data centers must accurately measure the consumption of energy in real time and create timely alerts to keep a check on energy usage, in order to optimize energy efficiency. Identifying alternate sources of energy also helps in optimizing energy efficiency.
Intelligent Power Management: Managing power prudently can help optimize power usage and increase energy efficiency. Through intelligent power management, predictive analytics, and efficient data center infrastructure management, a data center can maximize resource utilization, minimize energy waste, and enhance overall sustainability. Intelligent monitoring, control, and allocation of power resources within a data center infrastructure can help boost the recovery time of devices that are managed remotely.
Virtualization: Virtualization allows multiple virtual servers to run on a single physical server in a data center, which helps to optimize energy efficiency and reduce the environmental impact of multiple physical data centers. This not only improves data center resiliency but also makes a data center more sustainable.
Using Renewable Energy Sources: Another way to reduce carbon emissions and improve sustainability is incorporating renewable energy sources into data center operations. It can involve various mechanisms like installing solar panels, wind turbines, or hydroelectric generators. Data centers can also invest in off-site renewable energy projects, such as wind or solar farms, that can offset their energy consumption.
Modern Cooling Systems: Several strategies to improve cooling efficiency include using free cooling systems that use outside air to cool a data center instead of traditional air conditioning. Another option is liquid cooling, which uses a liquid coolant to directly cool server components. Installing efficient airflow management mechanisms improves the effectiveness of cooling systems and reduce energy usage. Optimizing airflow is a great way to ensure sustainability and reduce operational costs in data centers.
Implementing Automation: Automated power management tools can optimize system settings for maximum energy efficiency. Several practices, such as turning off unused devices or putting servers into low-power states during periods of low usage, can improve energy efficiency. Sustainable data centers use software-based smart design principles to optimize energy efficiency and reduce environmental impact.
Conduct Regular Energy Audits: Regularly monitoring and assessing energy usage and carbon emissions is essential for identifying areas for improvement and ensuring data centers remain as energy efficient as possible. Conducting energy audits can provide deeper insights into energy usage patterns, identify areas for improvement, and help prioritize energy-saving initiatives.
Meeting Data Center Sustainability KPIs
Measuring and monitoring sustainability performance through Key Performance Indicators (KPIs) is essential for data centers to assess their environmental impact, measure progress, and undergo continuous improvement. Some of these KPIs include:
Power Usage Effectiveness (PUE)
Water Usage Effectiveness (WUE)
Carbon Usage Effectiveness (CUE)
Server Utilization
Recycling and Waste Management
Greenhouse Gas Emissions
Compliance with Sustainability Standards
Going Green With Sify Data Centers
With over two decades of thought leadership in IT infrastructure, Sify has been delivering transformative business value to enterprises across the globe. Sify provides carbon-neutral and energy-efficient data centers by incorporating renewable energy sources, optimizing power utilization, offsetting carbon emissions, and automation through AI/ML. While ensuring sustainability, we offer high-efficiency equipment that complies with green practices like adhering to ASHRAE guidelines, implementing a carbon abatement policy, and ISO 14001 Environmental Certification.
In 2022, Sify Technologies made a commitment to renewable energy for its data center business in India. We have made power purchase agreements (PPAs) with Vibrant Energy Holdings, a majority-owned subsidiary of Blue Leaf Energy Asia Pte. Ltd. Having contracted over 200 MW of green power, Sify is successfully making progress in reducing its customers Power Usage Effectiveness (PUE) and Water Usage Effectiveness (WUE)
Wrapping up!
To build a zero-carbon data center, one must follow a holistic approach that considers the entire lifecycle of the data center, right from the design and construction to ongoing operations and maintenance. By implementing a range of strategies and technologies that optimize energy efficiency and reduce carbon emissions, data center operators can build green IT infrastructures that are environmentally friendly and economically sustainable.
Learn more about Sify green data centers now!