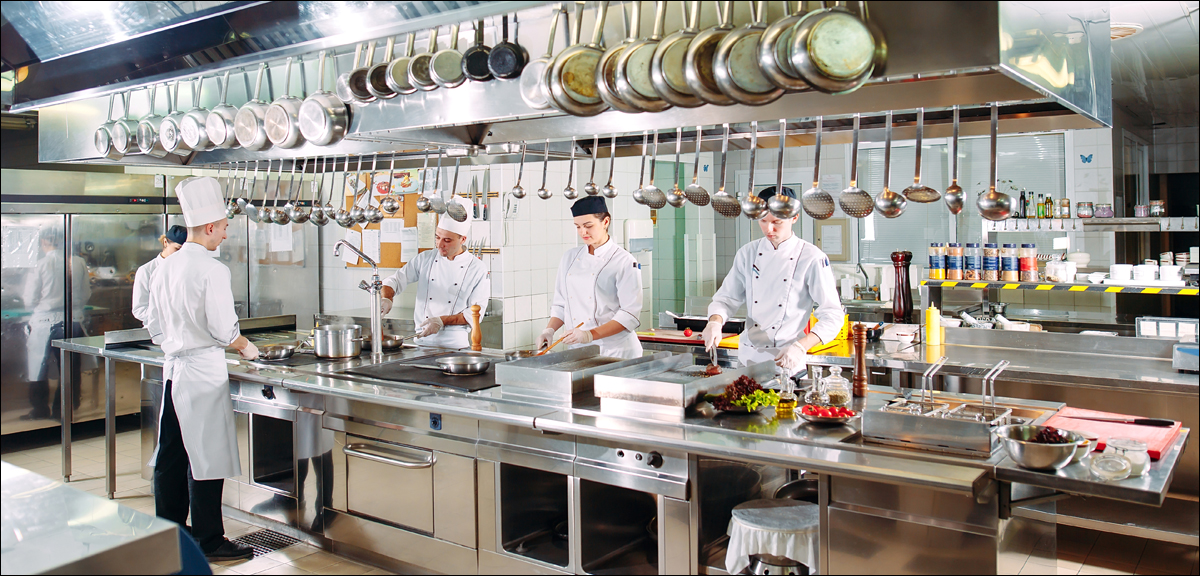 Prashant Kanwat breaks down what a cloud kitchen is and how it is revolutionizing the online market
---
Gone are the days of restaurants and dining out being the only option to travel beyond the everyday home food and the kitchen. If you look around these days, seeing food aggregators such as Zomato and Swiggy running round the clock to deliver the freshest food right at the customer's doorsteps, is a common sight.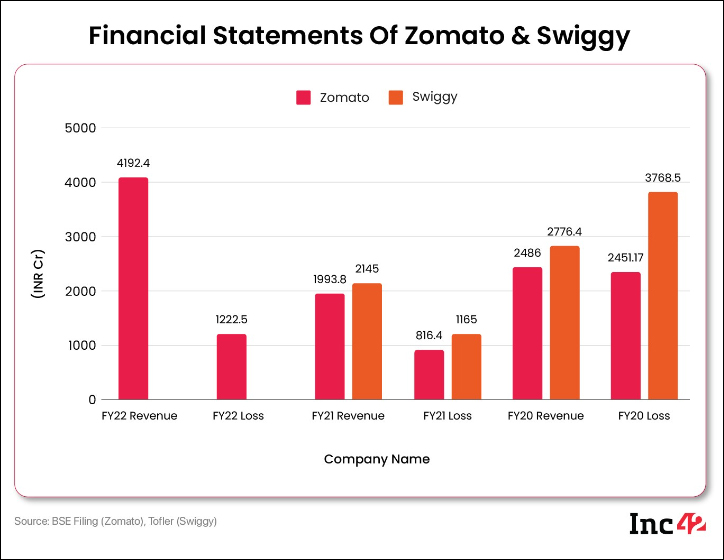 Not only has this driven a trend among consumers, but it has also left the food entrepreneurs, the small restaurant owners, and people in the food industry, gaping at the growing trend of the online ordering business. The number of users of the online food delivery system is expected to grow up to 2.9 million users by 2026.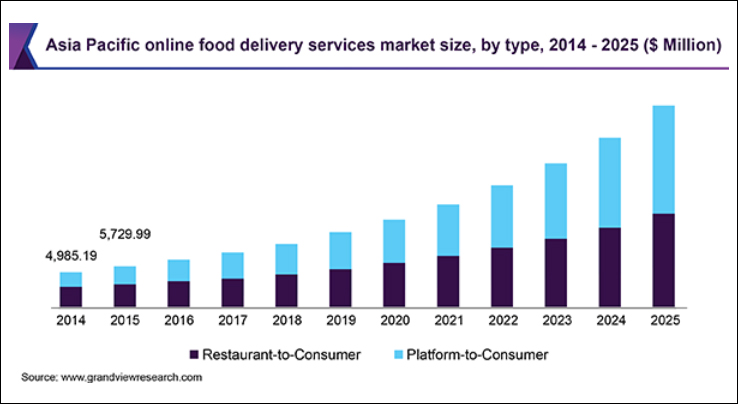 A cloud kitchen or a 'ghost kitchen' is called so, due to the physical visibility it lacks, to the public. Unlike restaurants that offer dine-in, cloud kitchens are devoid of all the setup. In fact, cloud kitchens require minimum equipment, such as space and kitchen equipment, compared to the lavish decor that restaurants use. 
Types of cloud kitchen model
Independent cloud kitchen: As the name suggests, behind the cloud kitchen is a single brand that is dependent on an online ordering system for their orders. With a small team of chefs, definitive operative hours and a brand name, independent cloud kitchens have a business model that is self-reliant and is hosted on different food aggregators to acquire customers.
Hybrid cloud kitchen: Being a hybrid of takeaway and cloud kitchen, a hybrid cloud kitchen can be visualized as an extension of the regular cloud kitchen.
Food aggregator owned cloud kitchen: With the aim of generating revenue and growing popularity of cloud kitchens, there are several food aggregators that lease out or purchase a convenient kitchen space to a growing food brand or one that is new in the market.
Multi brand cloud kitchen: This cloud business model is a combination of varied brands under the same kitchen.
Outsourced cloud kitchen: TAs the newest entry to the cloud kitchen game, this cloud kitchen business model is solely dependent on outsourcing of the food and the delivery services. A restaurant or any other business can outsource a part or the entirety of the menu such that the prepared product is received at the restaurant. The restaurant then packs the item and hands it over to the delivery personnel. The operational cost for the in-house team is reduced as everything from preparation to delivery is handled by the outsourced group.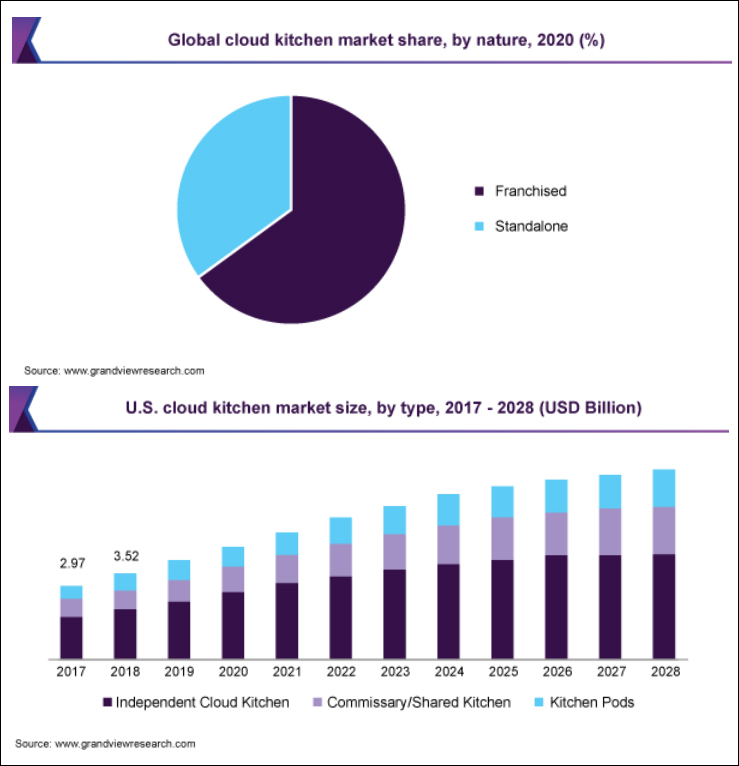 How to set up a cloud kitchen in India
Choosing the right rental space
Licenses and trademark registration

Some of the licenses to procure before starting out with a cloud kitchen business model include, 

GST (Goods and Services Tax) (Goods and Services Tax) registration
Trade license
Fire and safety license 
FSSAI (Food Safety and Standards Authority of India) license 
Trademark registration

Deciding the cuisine 
Kitchen space, equipment, and raw ingredients
Online Order Management System 
Staff requirements 
Marketing
Costs associated with a cloud kitchen
The costs of setting up a cloud kitchen model in India vary depending on the city chosen, the demographics, the type of cuisine offered and so on. Here is a rough outline of the costs that might come up and a rough estimate of how much they amount to.
The resources one would have to be spending in a cloud kitchen business model include,
Rent: This depends on the location and the land prices. A space of 600-800 sq feet is considered sufficient for a cloud kitchen model and may range from ₹25,000-50,000 
Licenses: The basic and necessary licenses cost around ₹15,000-20,000
Staff: Having a basic set of staff can cost around ₹50,000-85,000
Kitchen and equipment: This are solely dependent on requirement and can range from ₹5 lakh from scratch to around 8 lakhs. Basic kitchens can also be outsourced. 
Online ordering system: Many ordering systems allow customization based on features required, and these can range from ₹4,000/year to around ₹6000
Customer acquisition and social media presence: Based on paid and organic marketing, this may cost around ₹40,000-80,000 per month
Branding and packaging: As packaging is the crucial thing with cloud kitchen startups, branding across social media, food aggregators and effective packaging can cost around ₹50,000-70,000
Choosing the right Technology
With the right technology, you can streamline your operations and make your cloud kitchen run more smoothly. Here are a few things to keep in mind when choosing technology for your business:
Order management system: An order management system (OMS) is a software that helps you track and manage orders. It can be used to track customer information, inventory levels, and delivery status. A good OMS will be user-friendly and scalable so that it can grow with your business. 
Kitchen display system: A kitchen display system (KDS) is a software that helps you manage food preparation and cooking. It can be used to track recipes, ingredient lists, and cook times. A good KDS will be user-friendly and customizable so that it can be adapted to your specific needs.
Customer relationship management system: A customer relationship management (CRM) system is a software that helps you manage your relationships with customers. It can be used to track customer information, contact history, and order history. A good CRM will be user-friendly and scalable so that it can grow with your business.
Accounting software: Accounting software is a software that helps you manage your finances. It can be used to track income, expenses, and invoices. A good accounting software will be user-friendly and customizable so that it can be adapted to your specific needs. 
By investing in the right technology, you can make your cloud kitchen more efficient and organized. This will help you save time and money in the long run.
In India, the average annual cost of setting up a restaurant is almost 3x more than the set-up of a cloud kitchen, steering good entrepreneurs and food aggregators alike to jumpstart on this side of the competition. 
Regardless, it is always recommended to not follow the herd and go with the requirements your business needs to succeed. Assessing market trends, costs needed, estimating the funding required, security, profitability eventually are topics to consider before getting started on a cloud kitchen model.