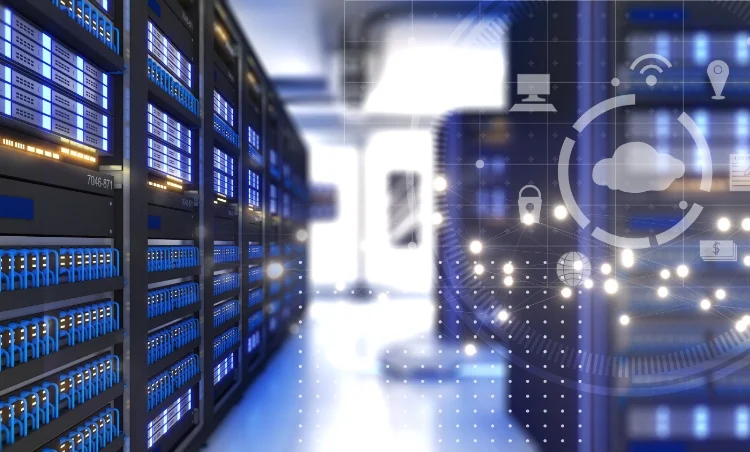 The Indian data center market has witnessed phenomenal growth in recent years, driven by the increasing adoption of digitalization, internet penetration, e-commerce and cloud computing. Due to accelerated adoption of public cloud and data sovereignty policies, major global players are investing heavily in hyper-scale facilities, turning the nation into a hyperscale data center hub to meet the increasing demand of cloud services.
According to a report, the data center industry in India to cross 1.3 GW capacity and grow 2.4x by 2024. The hyperscale market is expected to grow 20% from 2021 to 2026, with over 300 new hyperscale sites in development globally today, that number is expected to surpass 1,000 by end of 2024.
Hyperscale Data Center Colocation Providers in India are Revolutionizing Data Center Infrastructure:
Having a data center in India has its own benefits. Several prominent data center providers have already made significant investments in data centers that offer massive colocation facilities, capable of housing high-performing servers and storage systems, providing immense computing power, storage capacity, and scalability. These data centers cater to all the needs of Public Cloud providers, global Enterprises, and OTT players, who require massive infrastructure to support their digital services and handle the exponential growth of data.
Let's explore the reasons why India is an attractive destination for hyperscale Data Centers
Vast market size and growing digital economy


The proliferation of data generation at edge, vast market size with favorable business environment, and India's rapidly expanding digital economy, fuelled by the government's Digital India initiative is making India- one of the main data centers destinations in the world. Policies aimed at data localization and data sovereignty has incentivized both domestic and international CSPs to establish hyperscale data centers in India to comply with these regulations.

Increased adoption of cloud services in India


The increase in cloud services adoption in India reflects a broader trend of digitalization and technology-driven innovation. As organizations continue to realize the benefits of cloud computing, India is poised to play a pivotal role in the global cloud services landscape.

Cloud-born startups and automation-dependent businesses are defining the growth and scale of data center services. For instance, hybrid cloud adoption is enabling digital enterprises to leverage private infrastructure for compliance, sensitive workloads, greater control on the applications and environment, and tap into the high computing power of public clouds for bursting or scaling requirements, enabling digital innovation, and easier access to next-gen technologies like AI/ML, thus accommodating evolving business needs.

Scalable data center campuses with growth options for up to 10 years


Scalability is one of the top challenges that hyperscalers and enterprises face as the demands on their technology systems increases. To help customers data processing seamlessly, hyperscale companies need exceptional storage, capacity, and flexibility to match their internal data processing requirements.

Hyperscale-ready data centers facilities in India are designed to become agile to cater the growing demand and meet any load they service. By setting up new availability zones set up and built-to-suit capabilities, most data center providers offer growth options for up to 10 years, enabling faster time to market in a cost-effective manner.

Sify's data center in Rabale, Mumbai is an expandable mega data center campus designed for 10 towers, with 5 of them fully operational. The large campus has a 200 MW IT power capacity with up to 15,000+ racks. The remaining towers are in development and planning phase to favor hyperscale and retail clients' dynamic workloads.

Dense interconnect networks


The availability of dense interconnect networks has played a significant role in contributing to the growth of data centers in India. Hyperscale data center providers help businesses seamlessly connect to public clouds through high speed, low latency network while ensuring enhanced quality of services (QoS), secured information exchange, and guaranteed performance.

Ample Stable power


The rapid growth of data center usage results in a growth of energy needs of the facility. Hyperscalers look for locations with access to stable and redundant power infrastructure, including multiple power grids, reliable electrical connections, and backup generators. India hosts several locations across its geographical reach that offers ample power and the capacity to scale up as hyperscalers' operations expand. Data center providers assess the availability of power grids, transmission lines, and substations in the vicinity to attract and meet hyperscalers core requirements.

Abundant Renewable Energy Potential


India offers substantial renewable energy potential, including solar and wind power. The country's focus on renewable energy development aligns with the sustainability goals of hyperscale data center operators which is to make themselves carbon-neutral, making India an attractive choice for establishing environmentally friendly data centers. Most data center service providers in India are investing in green practices to meet the sustainability guidelines.

Sify data centers are green and energy-efficient data centers with 200+ MW of renewable power contracted. Additional nation-wide Green power for upcoming Data Center facilities is underway. With a reduction in carbon footprint by 28% during 2021-22, Sify ensures implementation of innovative practices to achieve low PUE (ASHRAE guidelines) and low WUE (Green Grid guidelines). It is a significant commitment to dedicated solar and wind renewable investment.

Skilled Workforce and Technological Expertise


India has a large pool of skilled Data Center professionals with deep Subject matter expertise in electrical, mechanical and Data Center design as well as operations. India has traditionally been strong in developing IT professionals, with a strong foundation in software development, network engineering, and data management. This talent pool is critical for operating and managing hyperscale data centers. The presence of a thriving IT services industry further contributes to the availability of skilled personnel with the necessary expertise.

Cost Advantages


India offers several cost advantages in terms of real estate, labor, and operational expenses compared to other established data center destinations. Lower land and construction costs, competitive energy prices, and ease of business driven by government support and diverse favoring policies contribute to the cost-effectiveness of establishing hyperscale data centers in India.

Strategic Geographical Location


India's geographic location provides a strategic advantage for international organizations seeking to expand their data center footprint. Its proximity to emerging markets in the Asia-Pacific region, the Middle East, and Africa makes India an ideal hub for serving these markets with low-latency connectivity. Hyperscale computing companies in India can act as gateways to these regions, facilitating faster data transmission and ensuring enhanced user experience.

The Mumbai subsea cable landing station serves as a key entry point for international internet traffic and facilitates high-speed connectivity to and from India. It supports global data communication and is vital for businesses and enterprises requiring robust international connectivity.

Chennai's location along the Bay of Bengal makes it an ideal location for subsea cable landing stations. It serves as a critical gateway for international data traffic, enabling data transfer between India and other parts of the world. This connectivity is crucial for businesses, content delivery networks, and cloud service providers operating in India.

Sify data centers in Mumbai, Chennai, Noida (Delhi-NCR), Hyderabad, Kolkata, and Bangalore are strategically positioned to meet the unique needs of businesses and organizations in these expanding regions. They play a critical role in supporting government initiatives, digital transformation efforts, technological innovation, and data-driven operations.
Wrapping up!
India possesses numerous attributes that make it an attractive data center powerhouse. The country has witnessed massive infrastructure investments in the past years from International and domestic companies who recognized the potential of India as a strategic location to establish their hyperscale infrastructure. Keeping these investments and key factors in consideration, it can be assumed that in the future, the hyperscalers will invest more in India while focusing on the sustainability standards.
As India's first commercial data center provider, Sify encompasses an extensive infrastructure with 11 DCs PAN India with 100 MW capacity. Additionally, with an aim to add 350 MW to their infrastructure by 2025, Sify will capture a large portion of the market hosting a mix of hyperscalers and retail clients.
Know more about Sify Hyperscale data centers here!!
Published on: 28 September 2023