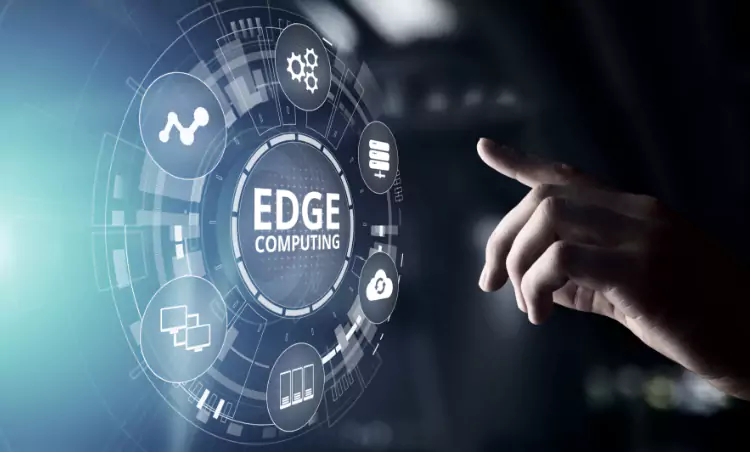 In the current digital landscape, enterprises are battling with a plethora of challenges posed by explosive growth of data and the need for real-time responsiveness at edge. Traditional cloud computing architectures are struggling to keep up with the demands of modern businesses. It has pushed enterprises to constantly lookout for innovative solutions that can help enhance their operations and gain a competitive edge.
This has led to the rise of Edge Computing, a paradigm that brings computation and datastorage closer to the source of data generation, enabling processing at faster speed and higher volumes. By decentralizing processing power and reducing latency, edge computing addresses several critical challenges faced by enterprises today. As per Statista, the global edge computing market is expected to reach 12 billion US dollars by 2028 at a CAGR of 23.97% from 2020-2028.
In this blog, we will delve into the 5 fundamental challenges that it solves for enterprises, helps revolutionize their capabilities, and how it paves the way for an efficient and agile future.
5 problems Edge Computing can solve for Enterprises.
Latency and real time processing
In the era of immediate access to information, reducing latency and achieving real-time responsiveness has become paramount for businesses. In traditional cloud architectures, data must travel from the edge devices to the centralized cloud servers, causing delays in processing and response times. Edge computing addresses this challenge by moving computational resources closer to the edge devices, thereby minimizing latency. By processing data locally at the edge, businesses can achieve near real-time analysis and decision-making, enabling time-sensitive applications like IoT, industrial automation systems to operate with lightning-fast speed and minimal delay.
For instance, retail environments with video surveillance of the showroom floor can be combined with actual sales data to discover consumer demands or most desirable product configurations. Similarly, in the healthcare sector, IoT devices enable healthcare professionals to be more watchful and connect with patients proactively. By sharing real-time data collected from IoT devices, physicians can help analyze and identify patients' health issues.
Bandwidth optimization with Edge analytics
With the explosion of connected devices and the exponential growth of data generation, bandwidth has become a valuable and often limited resource. Transmitting all data to the cloud for processing and analysis can strain network infrastructure, result in increased costs, and lead to suboptimal network performance. Edge computing offers a solution by performing data processing and filtering at the edge devices themselves.
By deploying servers and storage at the source of data generation, edge computing makes latency and congestion virtually non-existent as storage collects and processes the raw data, while local servers implement edge analytics to pre-process it before sending to the cloud. So, instead of sending raw data to the cloud, only relevant information or actionable insights are transmitted, significantly reducing bandwidth consumption. This optimization not only saves costs but also enhances overall network efficiency, allowing enterprises to make the most of their available resources.
Enhanced Data security
Security and privacy are critical concerns for enterprises, especially when dealing with sensitive data. Centralized cloud architectures present potential vulnerabilities, as data must traverse the network, making it susceptible to interception or attacks. Edge computing, on the other hand, distributes data processing and storage closer to the source, reducing the attack surface. By processing data locally, sensitive information can be kept within the enterprise's network perimeter, minimizing the risk of unauthorized access and data breaches.
Any data traversing the network back to the data center or cloud can be secured using encryption techniques. This decentralized approach enhances security and provides enterprises with greater control over data privacy, mitigating potential risks associated with storing and transmitting sensitive information. Additionally, it improves reliability and protects users' privacy as well.
Scalability and cost efficiency
Edge computing minimizes the capital outlay and operating expenses. Centralized cloud architectures often face limitations when it comes scaling resources to meet evolving requirements. With edge computing, scalability is inherently built into modern architecture. The distributed infrastructure allows enterprises to easily scale their computing power by adding or removing edge devices as needed. Whether it's adding new edge servers, edge nodes, or gateways, enterprises can dynamically scale their computing resources and distribute the computational load across a network of edge devices to handle increasing workloads or accommodate fluctuations in demand.
Edge computing offers several cost-saving benefits. First, by reducing the amount of data required to be transmitted to cloud servers. Second, by minimizing data storage costs as it's stored and processed locally. Additionally, edge computing reduces the need for extensive network infrastructure upgrades as enterprises can make use of existing local network connections. Lastly, by offloading processing tasks to edge devices, enterprises can minimize their dependency on high-cost centralized cloud resources. This enables them to allocate resources more efficiently and avoid the need for overprovisioning, leading to cost savings.
Governance and Compliance
Enterprises operating in heavily regulated industries, such as healthcare and finance, face stringent compliance requirements regarding data storage and processing. Storing and processing sensitive data in public cloud environments can raise concerns about compliance with data protection regulations. For instance, data sovereignty law such as European Union's GDPR defines how data should be stored, processed, and exposed.
Edge computing offers a viable solution by allowing enterprises to process sensitive data locally. By keeping critical data within their own infrastructure, organizations can ensure compliance with regulatory requirements and maintain better control over their data. This level of control and adherence to regulatory standards helps mitigate compliance risks, enabling enterprises to navigate complex legal frameworks more effectively.
Wrapping up!
As users continue to generate an ocean of data, edge computing works as a most efficient solution for enterprises. By embracing edge computing, enterprises have the opportunity to optimize resource allocation, improve system performance, and unlock new opportunities for innovation, efficiency, and competitive advantage in the ever-evolving digital landscape. However, when searching for the right partner, make sure to engage with a trusted partner like Sify with deep industry expertise, proven hybrid/multi cloud platform, automation capabilities through AI/ML, and a comprehensive portfolio of services designed to accelerate performance, increase scalability, and strengthen security in your edge deployments.