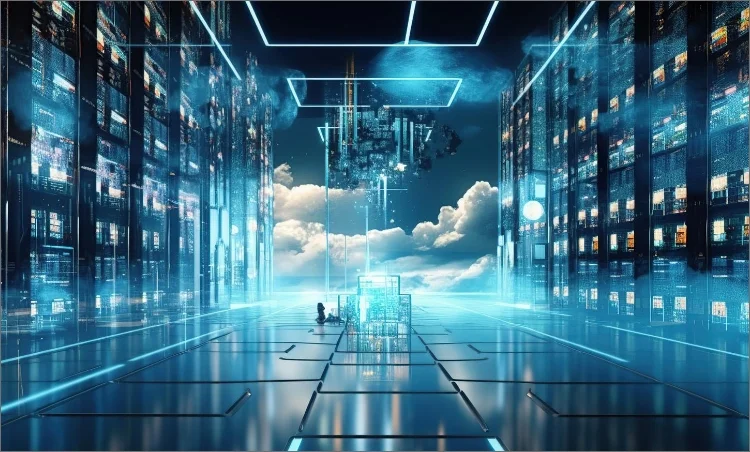 In the grand tapestry of India's digital journey, data center automation is a defining thread that weaves excellence, resilience, and growth into the very fabric of the nation's IT landscape. The amalgamation of innovation and automation empowers data center companies to transform operations, elevate security, and unlock new levels of efficiency. As the scale and complexity of data management continue to escalate, the role of automation in data centers has emerged as a transformative force. From provisioning and configuration management to monitoring and security, automation is the catalyst behind operational efficiency, reduced human intervention, and remarkable precision.
Data center automation involves the use of advanced technologies like AI/ML and robust software to streamline & orchestrate various data center processes. This automation enables data centers to operate tasks that were previously time-consuming, error-prone, and labour-intensive. These tasks can now be automated, leading to optimized resource utilization and improved overall performance. With the right approach, data center automation can revolutionize the digital IT landscape, enabling businesses to stay agile, competitive, and future-ready.
India's Data Center Landscape: A catalyst for Innovation
India is becoming the preferred data center destination for enterprises and hyperscalers. Currently, there are 138 operational data centers in India, utilizing 737 MW power. Over the next 3-4 years, an additional 50 data centers are expected to be established, resulting in a power demand of 1050 MW. Indian cities like Chennai, Hyderabad, Bengaluru, Mumbai, Pune, Noida, and Kolkata are emerging as data center hubs, hosting a myriad of providers catering to diverse industries. Several leading companies leverage automation techniques to deliver seamless and reliable solutions to their clients. The adoption of automation has enabled them to offer cost-effective services, rapid deployment, and robust security measures.
Important Role of Virtualization
Virtualization forms the crux of data center automation, particularly in cloud computing environments. By abstracting hardware resources and creating virtual machines (VMs), data center administrators can deploy and manage applications more efficiently. Virtualization allows for dynamic allocation of resources, on-demand scalability, and workload migration across servers. This flexibility streamlines automation processes and optimizes resource usage. It enables data centers to adapt and scale rapidly according to their requirements.
Benefits of Data Center Automation
Data center automation presents a world of opportunities for businesses in India and around the globe. The opportunities presented by automation are vast, ranging from operational efficiency to enhanced resource utilization. Data centers must automate to experience the following benefits:
Enhanced Efficiency: Automation propels data centers into an era of unparalleled efficiency by eliminating manual intervention. Time-consuming routine tasks, once automated, can be executed with precision, freeing up skilled personnel to focus on strategic endeavours. By automating resource allocation and workload management, data centers can achieve optimal utilization of computing power, storage, network resources, and automate incident response. This efficiency translates into reduced downtime, optimized power consumption, better hardware utilization, improved operational efficiency, cost savings, better scalability, and a greener footprint.
Faster Deployment & Flexibility: Automation expedites the deployment of applications and services in a data center. With automation's ability to swiftly allocate resources on demand, data centers become more agile and responsive to changing workloads. This scalability ensures optimal performance, even during traffic spikes or resource-intensive tasks. Automated Data Centers embody flexibility by seamlessly adapting to evolving business needs. Through intelligent automation, these facilities can swiftly deploy new services or applications as demand fluctuates. This adaptability ensures that businesses can respond to changing market conditions and customer demands with agility, without the constraints of static infrastructure.
Enhanced Security Posture: Automated security protocols keep a constant vigil on data center environments. Threat detection and accelerated incident response help prevent cyber threats and potential breaches. Automated security measures aid in responding promptly to security incidents. This proactive approach enhances data center security, protecting sensitive data and critical systems.
Rich Data Insights and Analytics: Leveraging the power of automation and advanced monitoring systems, the data centers constantly collect more and more data on business performance, resource utilization and system health. The data analytics provides businesses with valuable insights into their IT infrastructure. This insight empowers organizations to make data-driven decisions, optimize resource allocation, predict maintenance needs, and improve overall efficiency.
Cost Savings: Automation led data centers help save costs through energy efficiency, resource management, predictive analytics & maintenance, scalability, labor efficiency, error reduction, location optimization, integration, and compliance management These cost-saving benefits make automation a strong investment for businesses looking to optimize their IT systems.
Challenges in Data Center Automation
While the benefits of data center automation are compelling, embracing automation comes with its own set of challenges. Many data centers consist of heterogeneous systems and technologies, making it difficult to integrate new automation tools seamlessly. Here are a few challenges that data centers may face while embracing automation:
Skills Gap: Introducing automation into existing data center infrastructures demands careful planning and integration. Besides, adopting automation requires skilled personnel who can manage and maintain the automated processes. Data center staff may need to upskill or reskill to effectively leverage these automation tools. They must evolve from playing traditional roles to becoming adept orchestrators of automated workflows and processes.
Security Concerns: As automation reduces manual intervention, robust security measures become paramount. Safeguarding against unauthorized access and potential vulnerabilities is imperative. Data centers must keep an eye for unauthorized access to automation systems or potential misconfigurations, which could lead to severe data breaches and service disruptions..
Large Initial Investment: The initial capital investment required to implement automation tools and technologies can be significantly high. Smaller data center companies in India may find it challenging to invest in these technologies, limiting their ability to compete effectively. While the long-term benefits are substantial, data center companies must carefully assess the need for capital investment against the potential gains they offer.
Regulatory Non-compliance: Automation may raise concerns about non-compliance with industry standards and data protection regulations. Hence, data center companies must ensure their automated processes comply with the industry standards and regulations including Personal Data Protection Bill (PDPB), ISO 27001, Payment Card Industry Data Security Standard (PCI DSS), Telecom Regulatory Authority of India (TRAI), ISO 14001, and more.
Transforming Data Centers With Sify Technologies
Sify Technologies has been a pioneer in the India data center services market, serving enterprises for more than two decades. We have been delivering value to our customers by enabling them to achieve their digital transformation goals, powered by intelligent data center automation. Sify data centers provide automation benefits such as better visibility into the data center operations, while ensuring optimum utilization of resource capacity. Paving the way for innovation and growth, we are not only transforming data center operations but also contributing to building India's tech landscape.
The integration of AI/ML-based predictions plays a crucial role in managing availability, performance, cost, and capacity. Currently, Sify data centers commits:
8-10% savings on PUE
Improving equipment time by 20%
Up to 300 person hour savings in a month
20% reduced MTBF, 10% improved MTTR, and 10% reduction in unplanned/possible downtime
reduction in customer penalties by maintaining SLAs
10% reduction in operating cost
Conclusion
In conclusion, the field of data center automation offers countless opportunities for organizations to increase efficiency, scalability, and reliability in their business. Adoption of automation technology can enable routine tasks simplify, reduce human error, and free up IT staff for more strategic efforts. However, it is important to acknowledge and address challenges such as security concerns, skills gaps and the need for better planning and management. With a strategic thinking approach, organizations can unlock the full potential of data center automation, paving the way for faster and more agile digital processes in a data-driven world.
Accelerate your digital transformation journey with a digital-ready IT infrastructure powered by Sify. Learn more about how Sify can transform your organization by becoming your digital infrastructure partner.
Published on: 06 October 2023