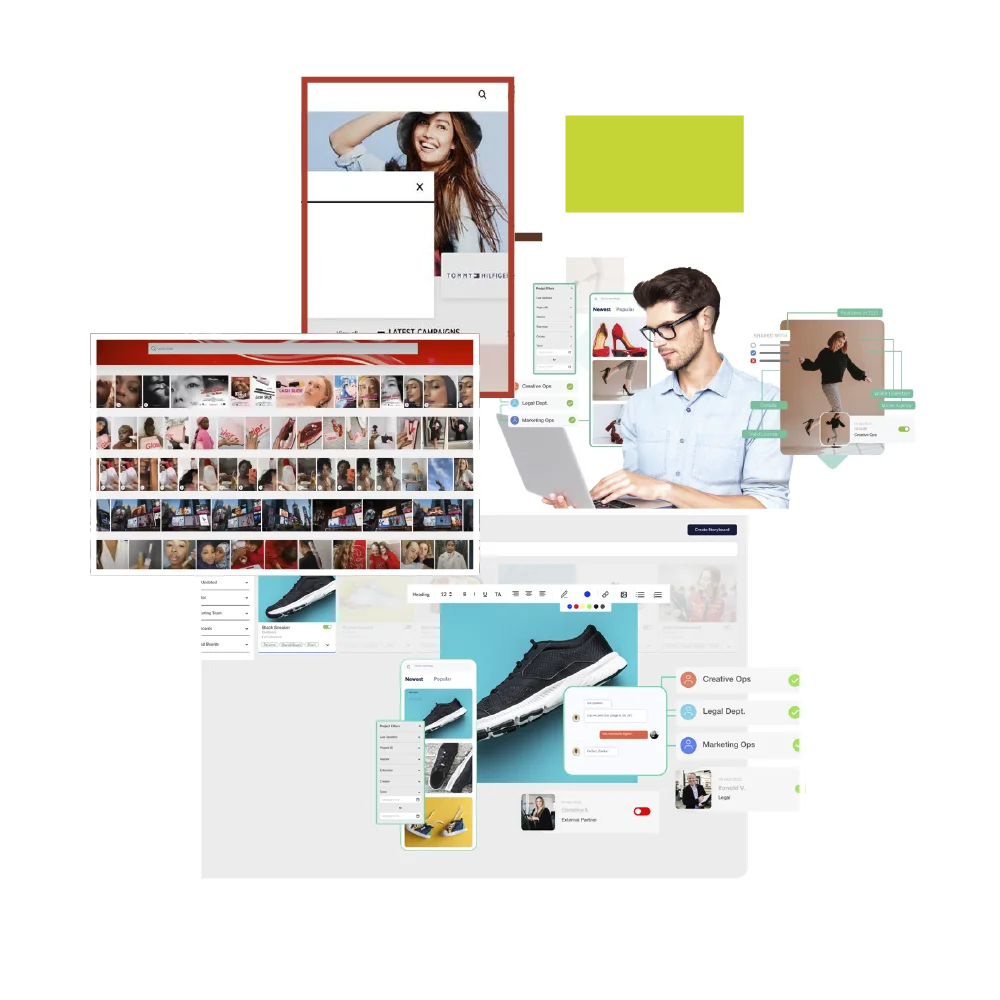 Credits: Published by our strategic partner Tenovos.
Searching for the right digital asset management system (DAM) for video can feel like stumbling around in the dark. The time spent gathering requirements, researching applications, and reaching out to platforms can leave you more confused than before you began.
What should you actually be looking for in a DAM for video? Is a DAM even the right tool for managing your media? How can you ensure your video assets are stored and managed in a way that will optimize their usability across multiple channels and partners?
We'll be the first to admit, there is no DAM that's going to replace your media asset management (MAM) system for video production (though when it comes to the final asset, we've got you covered). But if you're looking for instant video playback, automated metadata, and shareable portals and collections for your external partners, you're in the right place.
In this article, we'll set expectations for what features you should be looking for in a DAM for video assets. Make note of which features touch on your organization's needs—it should become increasingly clear whether a DAM is right for you. Once we cover the basics, we'll highlight why there's so much opportunity in the future of DAM video functionality.
DAMs are made to manage your pre-distribution video assets
DAMs are ideal for managing completed video assets. The sweet spot for uploading videos to DAMs is after post-production and before marketing distribution. In this space, DAMs are essential for tracking asset usage, adding helpful metadata, and sharing assets across global teams. The best DAMs offer a suite of features that support the video's lifecycle after publishing. But overall, you should expect most of the same functionality in DAMs for video as managing print or web assets.
Six DAM for video features you need
There is an overwhelming number of options for DAMs, each offering its own suite of features. But what do you actually need to ensure you're getting the best DAM for video? Below is a list of the essential features every DAM should have if you're managing video assets.
Interoperability with existing video software
Since one platform can't solve all your video needs, you should be looking for a DAM that seamlessly connects to your current video production or management software. Creating video is notoriously complex, but managing video in DAM shouldn't be.

Look for a DAM that integrates your existing applications and repositories to maintain the integrity of content and data when transferring video between systems. Just because assets move, doesn't mean you should experience any data loss or lack of transparency. Good DAMs for video will connect using updated APIs with creative suites, product information management systems (PIMs), content delivery networks (CDNs), and content management systems (CMSs).

Instant global video management
World-class enterprise DAMs have no excuse for slow video playback speeds or a lack of video thumbnails. Many DAM platforms have implemented built-in CDNs to ensure you can play, share, download, and publish videos with little lag.

Your DAM should be built on cloud-based architecture that allows for uninterrupted global access to the platform for all users. This ensures your DAM is regularly updated with new video functionality without impacting your workflows or security.

Review and workflow management
The best DAMs for video should be able to streamline the creative review and proofing process. Look for a DAM that can ingest your video assets and pull them into automated review workflows.

Using your DAM for reviews, annotations, and approvals will enhance productivity and keep your projects on track. This saves you time and money on third-party software and endless email threads. Internal and external teams get real-time visibility and notifications, ensuring everyone is in sync and aware as your video assets are approved.

AI or automated tagging and metadata creation
AI and machine learning are phenomenally helpful when it comes to managing video assets. DAMs using AI offer features like auto-tagging and automatic speech-to-text transcripts in multiple languages. Instead of searching for a specific video in endless folders, it only takes a few clicks to discover and share subtitled videos.

In fact, machine learning can automatically scan video assets and assign tags related to the products, people, and objects within your videos. Supplement that metadata by integrating your product information management (PIM) system to improve insights and discovery. All this data makes searching and managing video assets a breeze.

Role-based interfaces, collections, and portals
When choosing a DAM for video assets, personalizing each user's experience—whether through role-based interfaces, branded portals, or sharable collections—helps you access and share your videos without interruption. Ensure any DAM you choose allows you to create secure, branded portals without worrying about size limits or other technical restrictions.

Similarly, many DAMs have 'collections' or role-based features which ensure only the right teams, partners, and agencies view and edit certain content. With a combination of role-based dashboards, portals, and collections, you can ensure all rights management and intellectual property rules are dynamically adhered to and everyone has the videos they need.

Customizable and scalable rights and security
Last but certainly not least, your videos need to be secure and easily shareable with those who need them. As opposed to MAMs, which may only host up to 20 users, DAMs can host thousands of users signing in from anywhere in the world. If you're looking for a DAM with scalable features, prioritize platforms with clear and customizable controls—you should be able to edit rights and access based on campaigns, teams, brands, geographies, and more. It's also wise to explore if your DAM can automate security and rights notifications, so you can get alerted if licenses are about to expire or need renewal.

Additionally, check if your DAM tracks how your content is being shared and by who. Good DAMs will have alert features that trigger users to when there are spikes in usage or unusual behavior.
What is the future of DAM for video assets?
In the future, DAM features will evolve to do even more. We're already seeing features like AI-assisted subtitles and dynamic resizing for social channels. More innovators in the DAM space are tracking video watch data in DAM—feeding that data back into the asset lifecycle to create a closed loop of continual content improvement.
In the end, if these six features address your organization's needs, a DAM might be right for you. Features like interoperability, workflow management, rights management, and instant global playback will set you up for DAM for video success. Don't forget to add them to your wishlist!
After all, a journey of a thousand miles begins with a single step. Your adventure awaits.
Want to know what types of data your DAM should be providing? Reach us at marketing@sifycorp.com
Written by Michael Waldron, CMO, Tenovos
Published on: 30 October 2023